Residential Trip to Devon - March 2017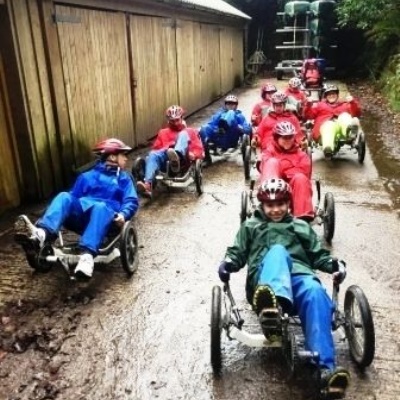 Our annual visit to the Calvert Trust Exmoor, took place again this year and it proved to be another great success. The students were able to take part in a range of activities which varied from Abseiling, Kayaking, Archery, Zip Wire, Horse Riding, Crate Stacking, Archery, Bike Riding and lots more. For some of our students, this was the first time they were away from home for a long period of time, we saw these students flourish and grow within just the week. Some others were lucky enough to have been before and were able to be a support network for those who were experiencing this for the first time.
We were very spoilt at meal times, every morning we had a full English breakfast, cereal and yogurt. Lunchtime and dinnertime we had a variety and different food which catered for all needs. During the day we were able to make as many hot/cold drinks as we wanted. It was nice seeing the students so independent in making their own drinks, everyone especially enjoyed the homemade Hot Chocolate which had to be refilled daily thanks to Meadow Students (and staff)!!! The Kitchen staff were amazing and catered for our students varying needs and would always ensure that we were well fed.
In the evenings we had a range of activities organised including swimming, which was very popular and film nights. We even had the Zookeeper from Exmoor Zoo come in with a range of creepy crawlies including a hissing cockroach, a stick insects, and a meercat. We celebrated the success of the week by putting on our glad rags and dancing away at the disco..
The staff at the Calvert Trust were very supportive and highly skilled, always encouraging our students to take part in all activities. We would like to pass on our thanks to all of the staff at the Calvert Trust who made our trip so memorable for us.
Our students' behaviour was exemplary, all showing a mature and grown up attitude, the staff there even commented on how well behaved and how polite our group was. It was so nice to see all of our students socialise and interact with one another and try activities and food which they haven't before. They have all come back with fond memories of the trip, reminiscing and remembering moments fondly, some are already planning on going again next year should the opportunities arise.
We would also like to thank the Uxbridge Urban Welfare Trust, Friends Of Meadow and Olleco for helping fund the trip and keeping the costs low for our students.
Miss S Bhopal
Trip Leader
To see more photos from our trip visit Our School/Gallery