27 April 2018 - Four pupils achieve Bikeability Level 3 !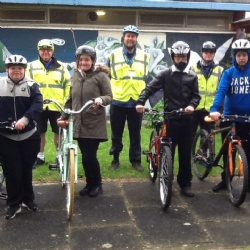 "Following the success of completing level 1 and 2 Bikeability in March 2018, four of our Meadow High School pupils have gone on to complete level 3.
This is a first for our school and the trainers and pupils have given great feedback on this achievement.
The pupils who have completed level 3 on the two training mornings 25th April and 27th April 2018 are:
Shaun (7SK )
Aimee (8LB)
Matthew (9MK)
Zechariah (10ZK)
Matthew said
"It was fun and exciting being on main roads, it was a great experience."
Zech said
"The trainers were lovely, they explained what to do well and I had a great time."
Well done to all four pupils and a huge thanks to the Road Safety Team at Hillingdon for their fantastic work with our pupils and for being so lovely to work with."
Jennie Evans
PSHCE Coordinator Meadow High School