April 2018 - Shoebox Appeal for the Jason Roberts Foundation in Grenada - Ongoing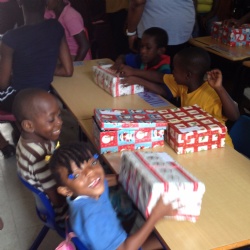 Shoebox Appeal
Dear Parent/Carers,
Unfortunately, we did not quite reach our target of 230 shoeboxes for the Jason Roberts Foundation in Grenada. We will be continuing our appeal throughout the year, with a view to ship these out ready for Christmas, so that every child at the 3 Special Needs schools will receive a present. If you have any unwanted gifts, toys or stationary at home please think of bringing these in to add to our appeal.
Items that could be included: cars, trucks, etc, balls, complete jigsaws, action figures, colouring books, pens, crayons, lego blocks, yo-yo, bubble blowers, wooden and plastic toys, building blocks, pencil case, pencil sharpener, dominoes, playdough / plasticine & cutters, fluffy toys, dolls, stickers, writing pads, skipping rope, scarf, mittens / gloves, hat, harmonica, games, cards…
A box can be for a girl, boy or can be unisex.
A card with the sender's name and a photograph is also a nice thing to include.
Boxes can gift wrapped but please wrap box and lid separately, as these will need to be checked before shipping.
What NOT to include in boxes

Food, sweets, chocolate & drinks, battery operated toys, conflict related items, matches, inflammable liquids, inflammable aerosols (e.g.: deodorants & hair spray), seeds or any other living material, nothing sharp.
Above all, the contents should be of a good quality, remembering that the recipient will be opening the box in eager anticipation, and especially with the toys, quite possibly the first real gifts they have received for a very long time.
You can also donate items to put into boxes as 6th form students will be making up shoeboxes at school.
Thank you to all who have donated so far.
Many thanks in anticipation of your support,
Miss Nolan and Mrs Daniels