Things to Do
Autism-friendly things to do in London
London has a host of theatres, museums and event spaces offering relaxed, fun experiences for children and their families to enjoy together. From theatre trips to museums and cinemas, these are some of the most autism-friendly things to do in the city.
---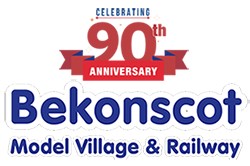 Bekonscot Model Village in Beaconsfield, Buckinghamshire, is recommended by the family of a person on the autism spectrum, who suggest getting there when the village first opens. The attraction features six miniature villages and, for train lovers, a light railway for visitors to ride on and a model railway. The model railway usually has seven to ten trains running on it. There are concessions for children and adults with a disability, and carers go free. https://www.bekonscot.co.uk
---
Bookings available now
This multi award-winning West End comedy has announced its first relaxed performance. A group of accident-prone thespians battle against the odds to make it to their final curtain call with hilarious consequences!
Call 0330 333 4851 or email access@nimaxtheatres.com
Autism-friendly performances can be a fantastic way for somebody with autism to enjoy a live theatre show. These shows will have had adjustments made in the form of reduction to sound levels, some changes to lighting and loud sound effects and strobe lighting taken out. There will be a relaxed attitude to movement in and out of the auditorium and there will be some designated
chill-out areas available. The theatre staff and cast will also have received some training so they have some understanding of autism.
---
London Museums
An increasing number of London museums are making experiences more comfortable for people with autism.
The Science Museum
The Science Museum put on fantastic events aimed at bringing experiences to life for children. The free Early Bird and Night Owls events at the Science Museum allow families to enjoy workshops at off-peak times. Please see their website for more details: https://www.sciencemuseum.org.uk/see-and-do/night-owls
Natural History Museum
Dawnosaurs is a free event for children on the autism spectrum to enjoy the Museum with their families and siblings, free from the hustle and bustle of the general public.
Visitors have access to a wide-ranging programme of activities, including a chance to see, meet and even touch live animals. All activities are supported by experienced, autism-aware facilitators.
A dedicated Sensory Room will also be available for those children needing a quieter and calmer space.This event is best for children aged five to 15, and siblings are welcome.
How to book
You can apply online for a place three to four weeks before each event. The next event will be held on 7 September.
---
The Tower of London
Families with autistic members can request fast-track access to beat the queues at the Tower Of London. The Hands of History exhibition on the top floor of the historic setting also offers an opportunity for families to learn through play. https://www.hrp.org.uk/tower-of-london/visit/accessibility
---
If you're in the centre of town the National Autistic Society recommends the London Transport Museum in Covent Garden as a great interactive experience, while the Royal Air Force Museum also offers an Autism-friendly trail.
---
The London Eye
Families looking to plan a sightseeing trip in the city can rest assured the London Eye will do all they can to accommodate them.
Further details https://www.londoneye.com/tickets-and-prices/
---
Trips to London cinemas are easier than ever too thanks to the likes of Odeon (Phone: 0800 138 3315), Vue (Phone: 0345 308 4620) and Cineworld (https://www.cineworld.co.uk/blog/autism_friendly_screenings) who put on special screenings one Sunday morning every month. Much like relaxed theatre performances the house lights are kept on during screenings to create a less intense atmosphere. The film's sound effects are also toned down and the audience is told to expect higher background noise as families enjoy the movie.