Remebrance Week 2014
What is Remembrance Week ?

In August 2014, the World will mark the 100th Anniversary (Centinary) of the outbreak of the First World War.
At Meadow, we held a Remembrance Themed Week during the week of Monday 2nd June - Friday 6th June 2014. Initially, this was to commemorate those affected by the First World War, but we also used it as an opportunity to remember all the fallen soldiers past and present.
We also included a fundraising element to the week and raised money for the Royal British Legion who are the UK's leading Services charity

providing care and support to serving members of the Armed Forces, veterans of all ages and their families. For more information about the Royal British Legion, visit www.britishlegion.org.uk.
Activities were organised during the week to involve all year groups. We were extremely fortunate to have guest speakers, parents, grandparents and special visitors throughout the week who gave the

pupils talks on their experiences of war.
Some classes made trips and visits out of school. Lessons were planned with a "Remembrance" theme. Pupils made poppies and wreaths. Someone from The Museum of London showed us real things which were used during World War One and World War Two. There was a display "Best of British" in our Library. We had special themed lunches and afternoon tea. We listened to war time music and sang wartime songs.
On the evening of Thursday 5th, we had a Remembrance Concert.
Par

ents and friends came to watch it. We sang wartime songs, read poetry, acted and dressed up.
There was a dress up day on Friday 6th June where students and staff dressed up in clothes from 1914 to present day or Best of British.
On the following pages are some of our activities and lots of photos of the week.
Miss S Bhopal
Humanities Faculty Leader
'LEST WE FORGET'
"They shall grow not old, as we that are left grow old: Age shall not weary them, nor the years condemn. / At the going down of the sun and in the morning, We will remember them."

Laurence Binyon, For The Fallen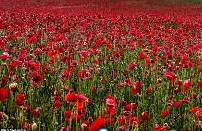 Flanders Fields - John McCrae
"In Flanders Fields, the poppies blow
Between the crosses, row on row,
That mark our place; and in the sky
The larks, still bravely singing, fly
Scarce heard amid the guns below."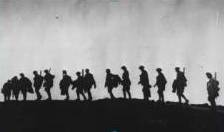 DULCE ET DECORUM EST - by Wilfred Owen

Bent double, like old beggars under sacks,
Knock-kneed, coughing like hags, we cursed through sludge,
Till on the haunting flares we turned our backs
And towards our distant rest began to trudge.
Men marched asleep. Many had lost their boots
But limped on, blood-shod. All went lame; all blind;
Drunk with fatigue; deaf even to the hoots
Of tired, outstripped(5) Five-Nines(6) that dropped behind.
Gas!(7) Gas! Quick, boys! – An ecstasy of fumbling,
Fitting the clumsy helmets(8) just in time;
But someone still was yelling out and stumbling,
And flound'ring like a man in fire or lime . . .
Dim, through the misty panes and thick green light,
As under a green sea, I saw him drowning.
In all my dreams, before my helpless sight,
He plunges at me, guttering, choking, drowning.
If in some smothering dreams you too could pace
Behind the wagon that we flung him in,
And watch the white eyes writhing in his face,
His hanging face, like a devil's sick of sin;
If you could hear, at every jolt, the blood
Come gargling from the froth-corrupted lungs,
Obscene as cancer, bitter as the cud
Of vile, incurable sores on innocent tongues,
My friend, you would not tell with such high zest
To children ardent(14) for some desperate glory,
The old Lie; Dulce et Decorum est
Pro patria mori.

Wilfred Owen
Thought to have been written between 8 October 1917 and March, 1918
Wilfred Owen is one of the greatest poets of World War I. He was a serving solider on the battlefield
Anthem For Doomed Youth - Wilfred Owen

Only the monstrous anger of the guns.

Only the stuttering rifles' rapid rattle

Can patter out their hasty orisons.

No mockeries now for them; no prayers nor bells;

Nor any voice of mourning save the choirs, –

The shrill, demented choirs of wailing shells;

And bugles calling for them from sad shires.

What candles may be held to speed them all?

Not in the hands of boys but in their eyes

Shall shine the holy glimmers of goodbyes.

The pallor of girls' brows shall be their pall;

Their flowers the tenderness of patient minds,

And each slow dusk a drawing-down of blinds.