Monday 2 June 2014 - Object Handling, Special Visitors and Roast Chicken Dinner
Monday 2nd June saw the start of Remembrance Week.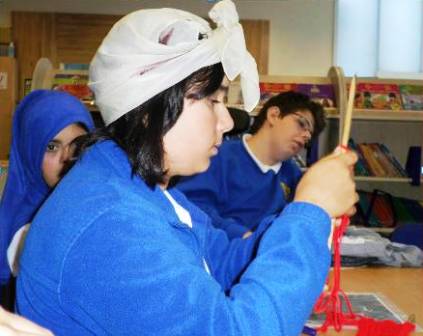 We were delighted to welcome Marion Try from The Museum of London. Throughout the day, classes were invited to Object Handling Sessions, where Marion showed us real objects from the times of World War One and World War Two. Marion told us lots about the objects and we were allowed to handle some of them. We tried on a gas mask and an air raid helmet. It was very interesting. We saw a ration book and wartime food rations. We saw toys and teddies from the olden days.
Throughout the day, we had lots of special guest visitors: parents and grandparents of staff and pupils came to talk to us about their experiences of war and living through wars.
At lunchtime, we set the tables with fancy flowery tablecloths and enjoyed a themed traditional British lunch of Roast Chicken. Staff dressed up in overalls and hairscarves to serve the food.
"The talk was pretty cool. I liked looking at all the things she brought in."
Quinn Pearson 9MV