Issue 15 - 19 December 2019
Issue 15 - 19 December 2019
Seasons Greetings to one and all!
On behalf of all the staff at Meadow, may I wish you and your family a very Merry Christmas.
We hope that you have a peaceful and happy time and we look forward to seeing you in 2020!
Mrs Rigby—Headteacher
---
On Friday 13th December, Meadow High School
had a very special visitor...Santa!
Pupils came down to meet Santa and all received a small gift and enjoyed
seeing the beautiful and amazing decorations in the grotto which was
created by Miss Barham.
Thank you to all that supported, as the pupils had an amazing time.
Mr Hancox, Miss Barham and Santa.
---
IMPORTANT UPDATE
The Training Day scheduled for 14/2/2020 is CANCELLED. This will now be a normal school day.
There will now be a Training Day on
Thursday 11 June 2020. School will be CLOSED to pupils.
A new sheet of term dates is attached.
---
The NEW Spring Summer 2020 School Lunch Menu is attached.
We are starting this menu when we return to school on
Monday 6 January 2020.
---
Please can I request that if your child has medication in school which is on repeat
prescription, please ensure that, before you send it into school,
you check that it is within the expiry date.
Thank you.
Mrs Wallington—Welfare Team
---
We have been experiencing technical difficulties with our Parent Text service over the past week. We apologise if you have received any parent texts late or in error.
This issue has now been resolved.
School Office
---
This year, Mr Glass has been making and selling wooden Christmas ornaments. He has made £284.50 profit, which means 10 people will have a meal and a place reserved at a Christmas centre with Crisis this year. Thank you all who ordered and of course to Mr Glass for taking the time to make these lovely decorations!
Miss Nolan—Charity Co-Ordinator
---
Carol Singing — In Theme Learning, Key Stage 4 Pathway One classes MP and JR were learning about Christmas carols. As part of our unit, we practised four carols, "Silent Night", "Rudolph the Red-nosed Reindeer", "Jingle Bells" and "We Wish You a Merry Christmas". After practising them, our two classes went around the school knocking on other classes' doors to sing them the carols we had learnt. It was so much fun and the pupils enjoyed spreading Christmas cheer!' Mr Parker—Teacher, Pathway One
---
Sports News
Mr Millard and Mrs Newman took students from 6th form and Year 11 to the Christmas Post 16 South London Tournament last week. Despite the constant rain, the boys played really well in group B. The results were as follows:
Game 1: Meadow win 3-0 with goals from Jay, Connor and Ilham!
Game 2: 0-0 draw
Game 3: Meadow win 2-0 with Ilham scoring twice!
Game 4: 1-1 Draw with Ilham scoring the goal.
The boys played really well and were crowned winners of group B! The boys voted Jay N as player of the tournament!!
Mr Millard
---
PLEA TO PARENTS: RE SCHOOL FOOTBALL KIT
Last summer we bought a brand new football kit for the school and, unfortunately, most of it has now gone missing.
Please can all parents look at home for any Meadow football kit. The shirt has the Meadow badge and is sky and navy blue; the shorts are navy blue with "S" branded onto it and the socks are sky blue. (The picture above is not the new kit).
If we do not locate the missing kits then some sports trips will have to be cancelled.
Mr Vincent—Faculty Lead, PE
---
8th Hillingdon Scout Group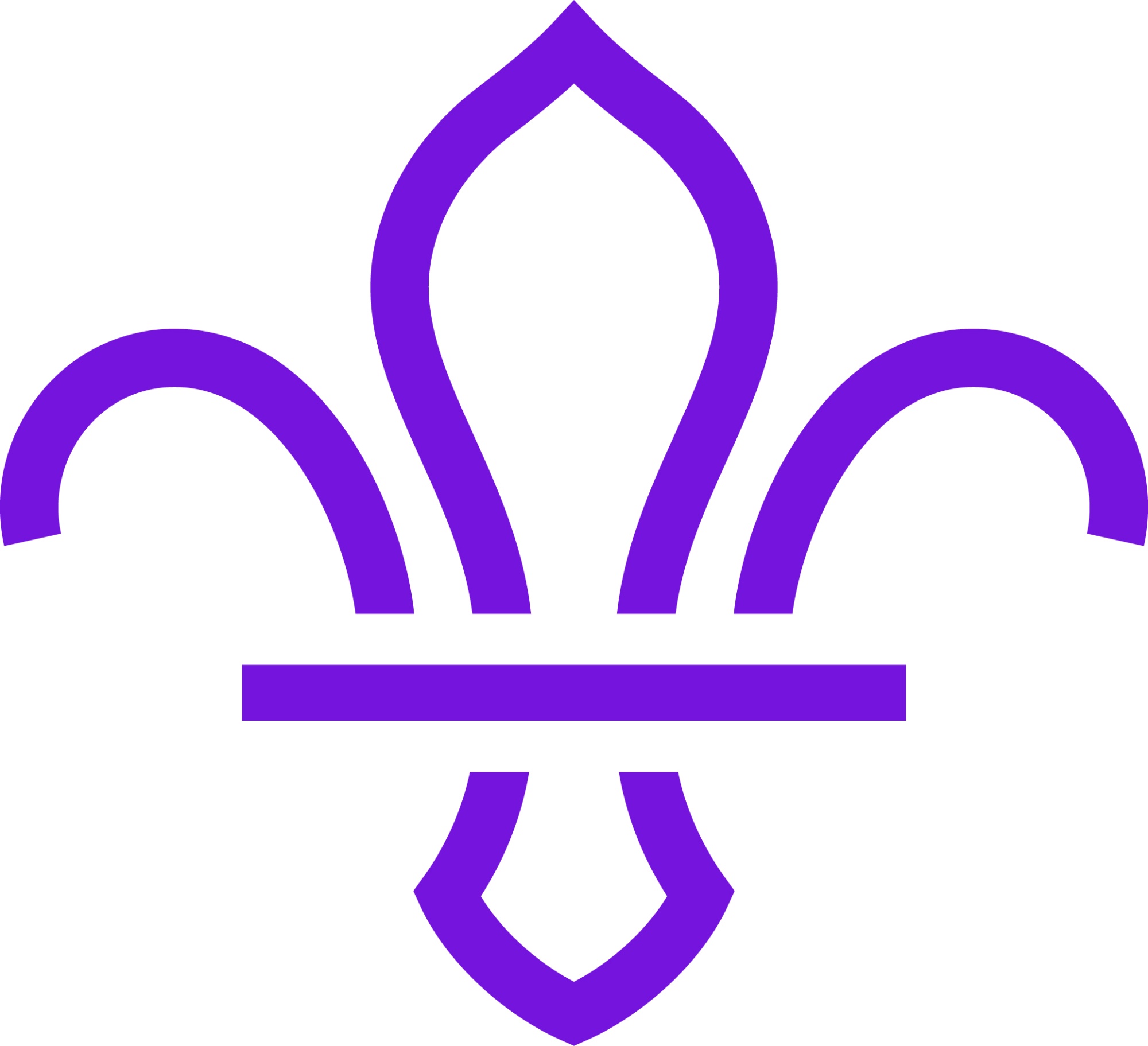 We are proud to announce that after 12 months of hard work from all the young people we are now officially a Scout Group !
On Friday 13th December, Shaun Fox and Andi Childs from Uxbridge District Scouts invested 27 young people and 6 Leaders as members of the 8th Hillingdon Scout Group. Being invested is a big deal for any Scout, having to recite the following in front of all the other scouts and family members, "On my honour, I promise that I will do my best, to uphold our Scout values, to do my duty to the Queen, to help other people and to keep the Scout Law."
Next year will be an exciting year for the 8th Hillingdon organising our first camp has started along with other exciting activities such as rifle shooting, hiking and fire lighting.
If you are in Years 7,8 or 9 and interested in joining, letters of interest will be going out in the new year, so keep your eyes open.
Thank you.
Mr M Rainsbury, Group Scout Leader 8th Hillingdon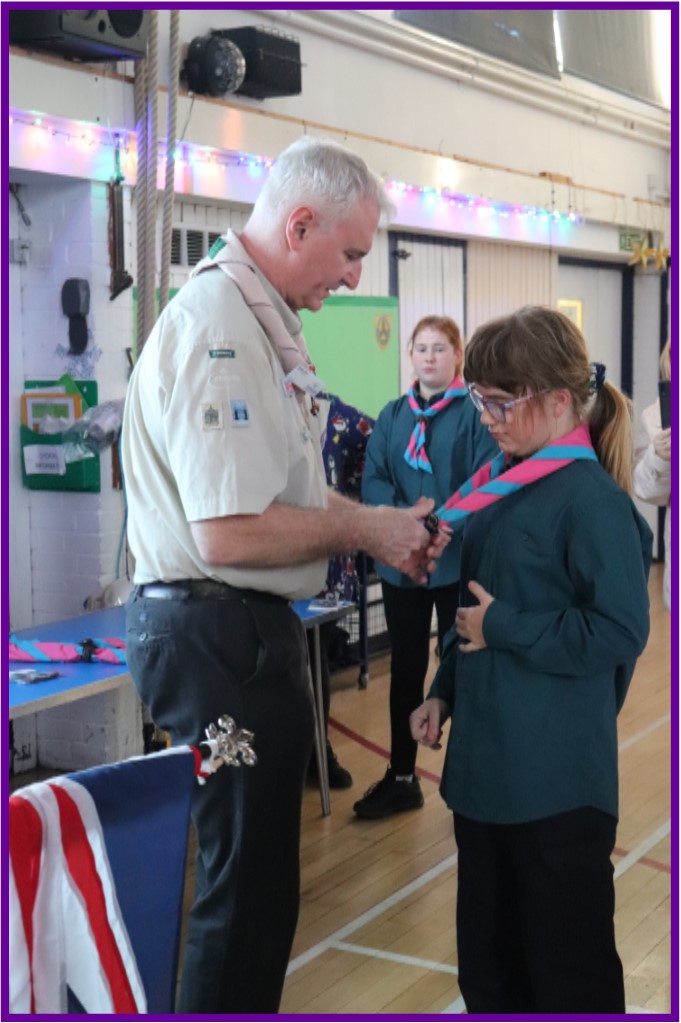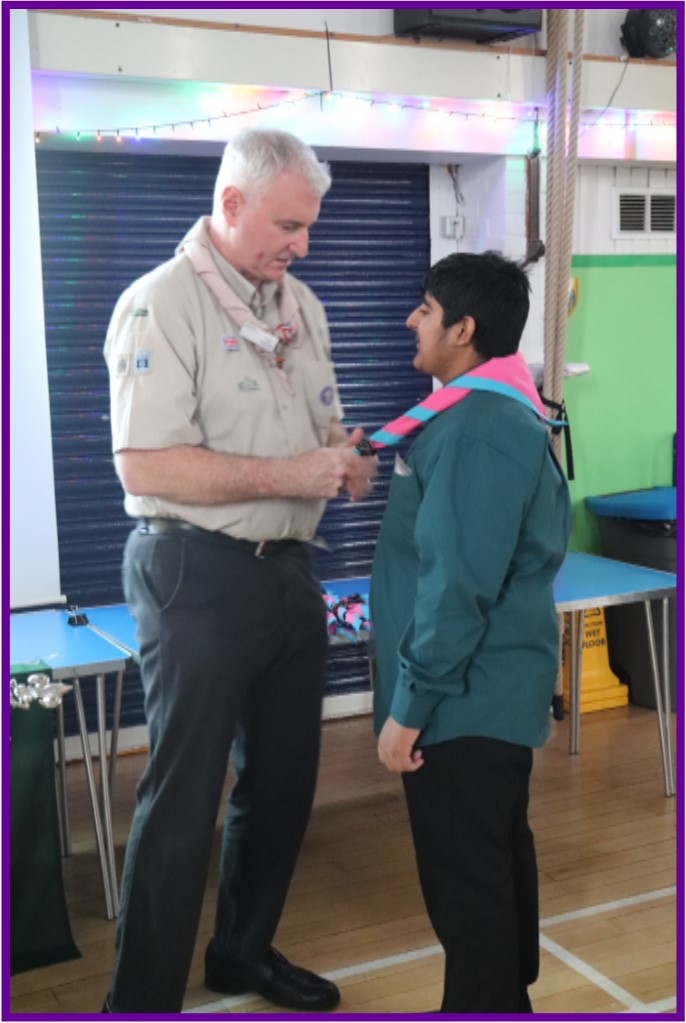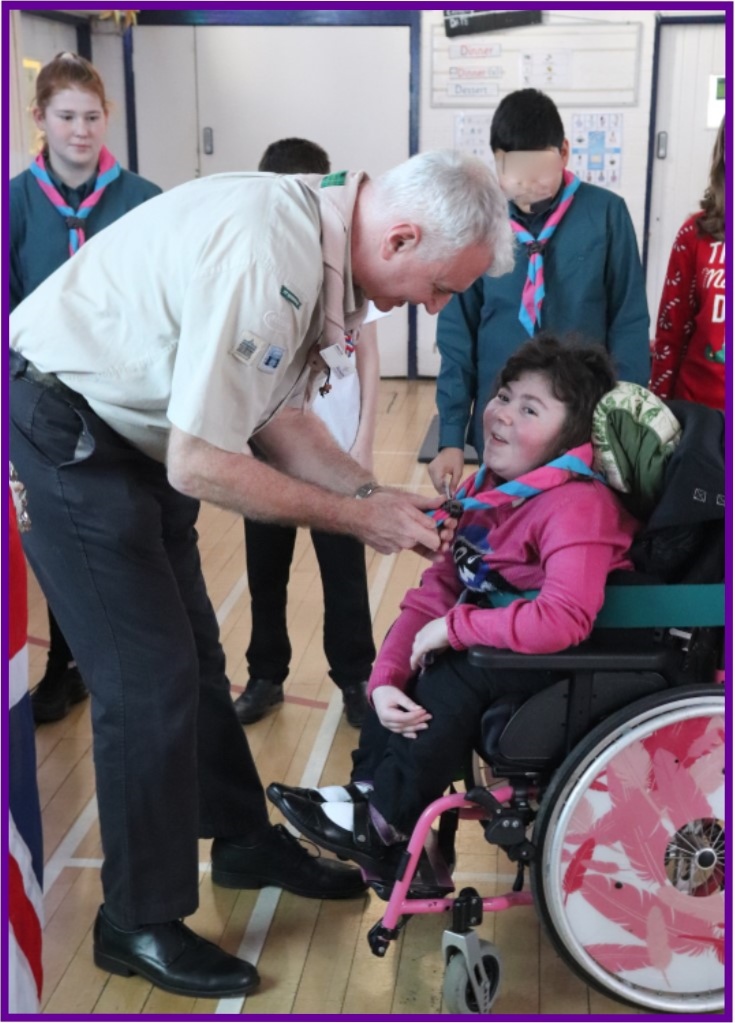 ---
Sixth Form pupils held a Hot Chocolate Sale in the Sixth Form Common
Room every break time last week and raised £60 for the charity Halo. Thank you to the staff that supported and thank you to the pupils for purchasing our hot chocolates.
---
Uxbridge Food Bank
Over the Christmas period, we have been collecting food and toiletries for the Food Bank in Uxbridge. A trolley full of items which was collected by the Food Bank today and will support many families in the coming months. Thank you to all who contributed!
Miss Nolan—Charity Co-ordinator.
---
Help for the Holidays - Zones of Regulation
REMINDER: Understanding and use of the Zones of Regulation is something we are continuing to develop across the school this year and is a key element of the SCERTS programme [Social Communication, Emotional Regulation and Transactional Supports] that has been running as a borough-wide initiative. The Zones of Regulation is a programme geared towards helping students gain skills in consciously regulating their actions, which in turn leads to increased control and problem solving abilities. Students are supported to gain skills recognising when they are in different states called 'zones' and also learn how to use strategies or tools to stay in a zone or move from one to another.
The aim is for students to gain skills recognising and managing their emotions more effectively as well as develop a wider perspective about how others see and react to their behaviour. We will be running some workshops for parents in the Spring term however if you would like to find out more please go to https://zonesofregulation.com/index.html
Our students are now becoming very good at identifying the zone they are in. The holiday period can be a very exciting with a lot of change in routine, you might find that the zones chart below is a very helpful strategy to use. I have included some ideas for 'tools' that your child can discuss with you. It is better if you talk about what 'tools' work well in the different zones in advance, this will allow you to calmly prompt your child towards the right strategy if needed.
Remember:
NO zone is linked to bad behaviour, the zones are how a person is feeling. It is normal for us all to move between the zones as part of our day. The Green Zone is the most comfortable to be in, Red Zone does not feel good. It is important to be able to acknowledge that we are in this zone without blame and then take positive steps to calm. When your child is in the Red Zone language should be kept to a minimum; giving a child space to process and implement strategies is what we are looking to do. Tell your child you are proud of them for using the zones so well before beginning to discuss what caused the upset. It is worth remember that the clearest thinking and communication happens in the Green Zone and so it makes sense to wait until this is achieved.
DO prompt your child to express the zone they feel they are in either by saying the name of the zone or pointing to the chart.
DO NOT tell your child what zone they are in – instead make an observation, 'I think you are in ... what do you think? THEN prompt with the agreed 'tool'.
Trickier but a good skills to build: Encourage your family and friends to use the 'zones' to explain how they are feeling to your child. If you are in 'yellow zone' your child can understand that they will need to wait 5 minutes until you are in the 'green zone' when you will be able to listen properly to what they want to say. Some families find using a timer helpful for this if your child struggles with the concept of time.
I hope that this helps and wish you all a wonderful end to the year and start to 2020!
Anne Sugden
English & Communication Faculty Leader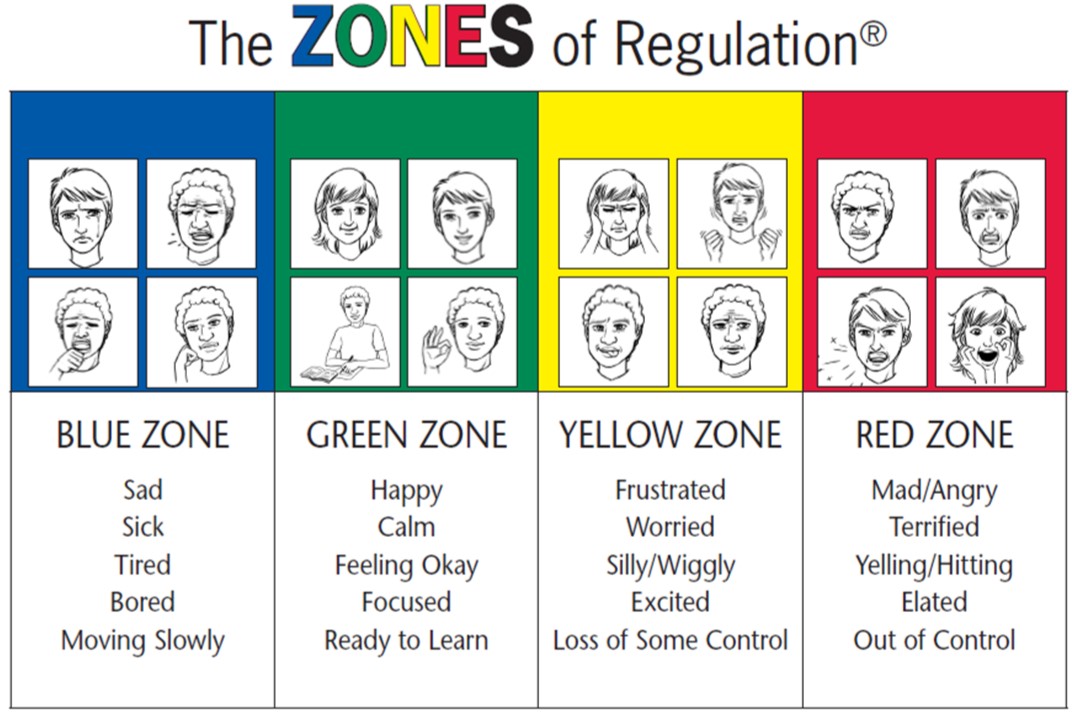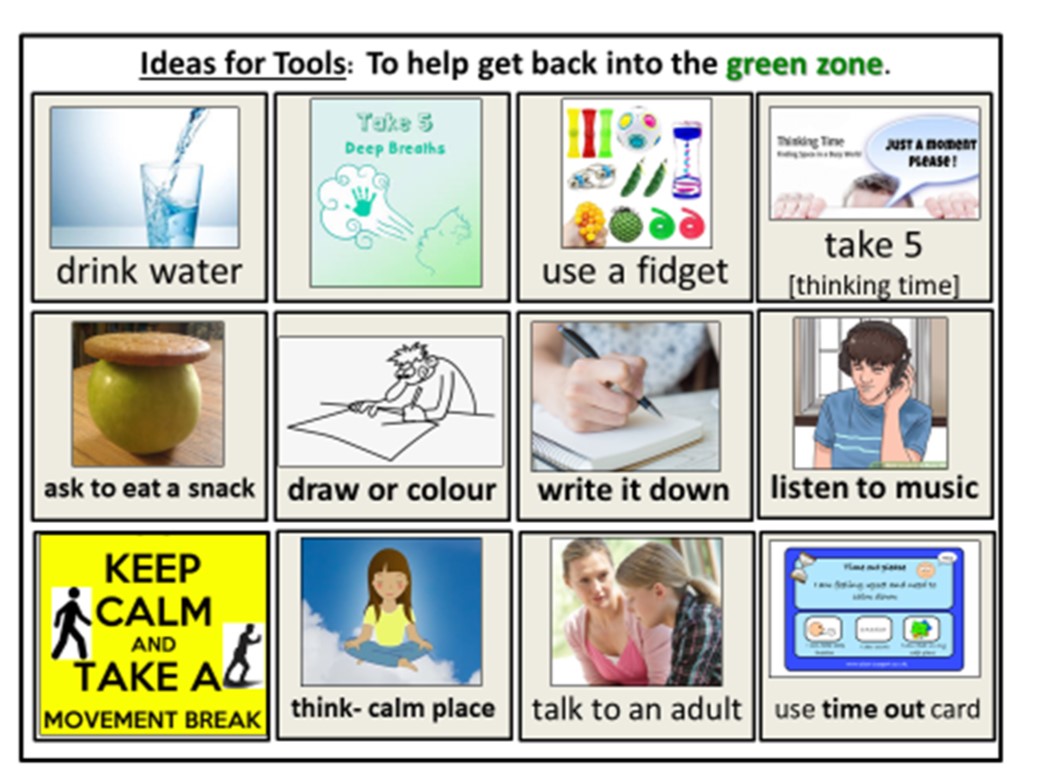 ---
---
Meadow High School
Term Times 2019/20
Autumn Term 2019
Training Day Monday 2 September 2019
Training Day Tuesday 3 September 2019
Term Starts Wednesday 4 September 2019
Half Term Holiday 21 – 25 October 2019
Annual Reviews Wednesday 4 December 2019
Term Ends Thursday 19 December 2019 @ 2pm
Spring Term 2020
Term Starts Monday 6 January 2020
Half Term Holiday 17 – 21 February 2020
Annual Reviews Wednesday 4 March 2020
Term Ends Friday 3 April 2020 @ 2pm
Summer Term 2020
Term Starts Monday 20 April 2020
Half Term Holiday 25 May – 29 May 2020
Training Day Thursday 11 June 2020
Annual Reviews Wednesday 24 June 2020
Term Ends Tuesday 21 July 2020 @ 2pm
Bank Holidays 2020
1 January - New Year's Day
10 April - Good Friday
13 April - Easter Monday
8 May - May Day Holiday
25 May - Spring Bank Holiday
Issue 3 – 181219
Training Day moved from Friday 14 February to Thursday 11 June 2020
---
---
---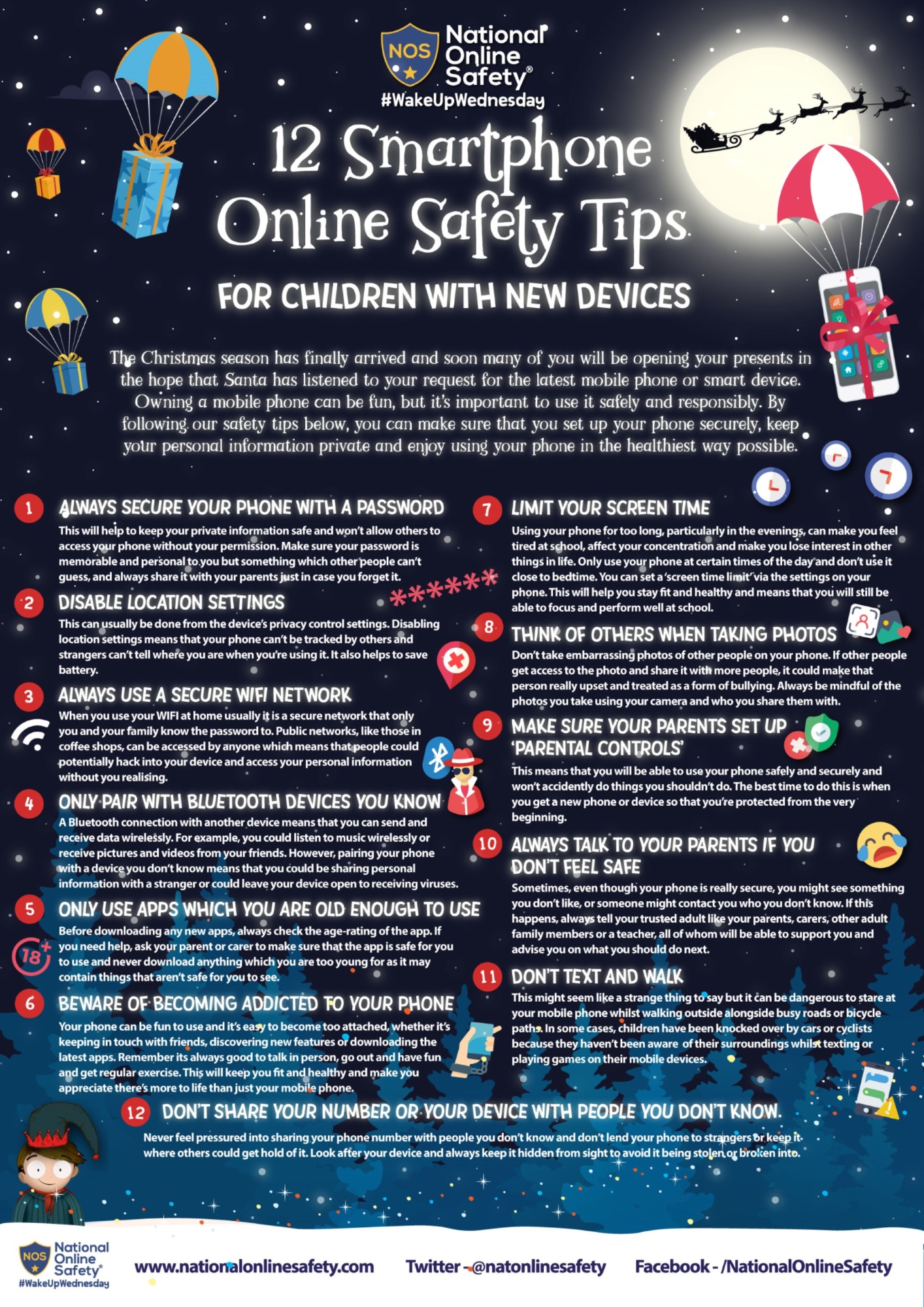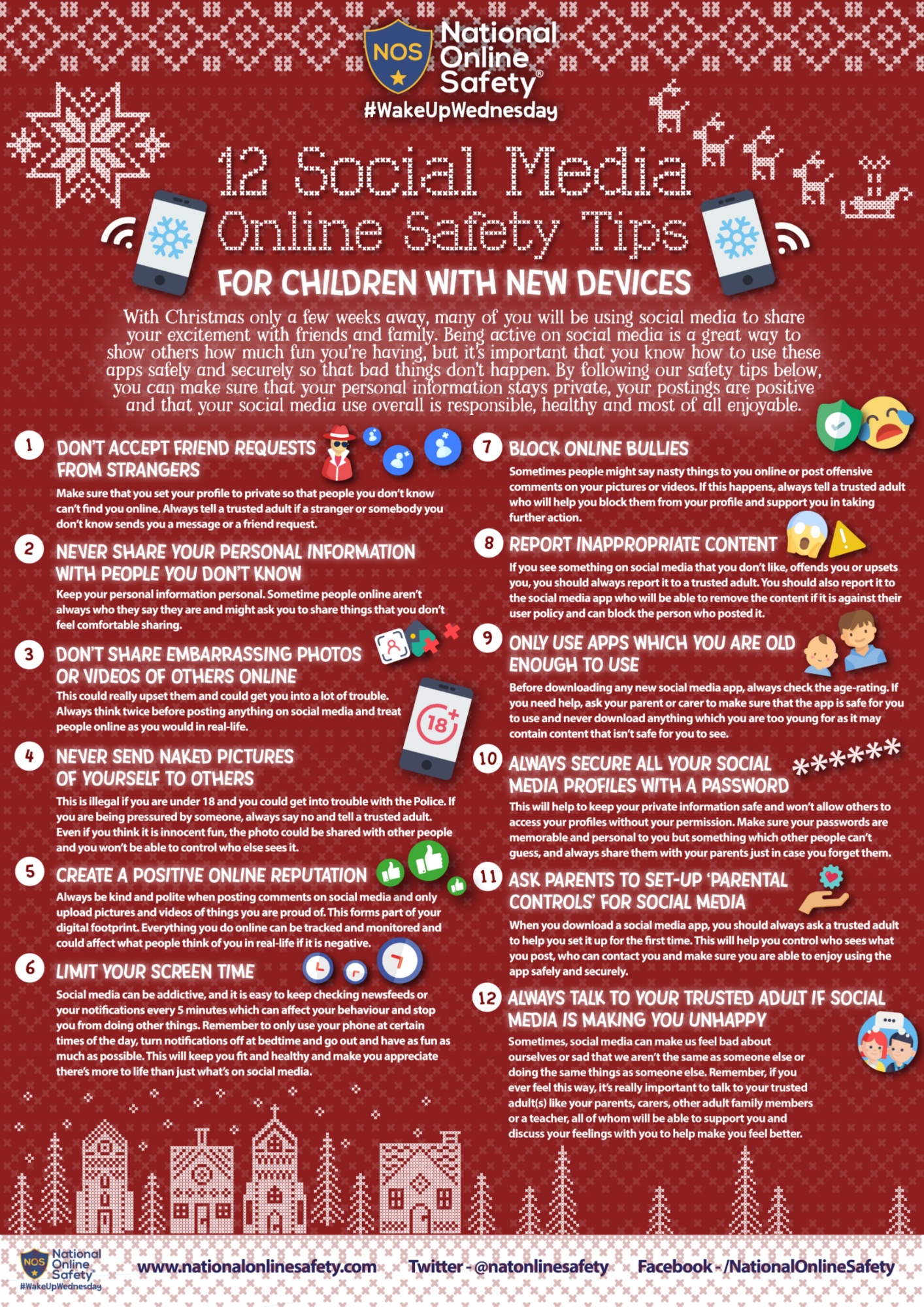 ---
Flyer to Whole School
Help for the Holidays— Zones of Regulation (also included in this bulletin)
Letter to Sixth Form pupils only
Trip to Draguignan and Nice
Week: 6 –10 January 2020
Week 1
NEW Spring/Summer Menu
(attached to this bulletin)
Monday 6 January 2020
Back to school—9am start
Wednesday 15 January 2020
ASD Coffee Morning—11.15am
Thursday 16th January 2020
Dyspraxia Group Coffee morning - 10am
Wednesday 12 February 2020
ASD Coffee Morning—11.15am
17—21 February 2020
HALF TERM
Wednesday 4 March 2020
Training Day—School is CLOSED to pupils
Wednesday 4 March 2020
Annual Reviews (for some pupils)
Thursday 19 March 2020
Dyspraxia Coffee Morning—10am
Friday 3 April 2020
Last day of term—school finishes 2pm
4-19 April 2020
EASTER HOLIDAY
Monday 20 April 2020
Back to school—9am start
Thursday 11 June 2020
TRAINING DAY—School is CLOSED to pupils
---