Issue 12 - 30 November 2018
Issue 12 - 30 November 2018
Jack Petchey Outstanding Achievement Award
Winner—October 2018
Congratulations to Tillie who won the Jack Petchey award for October! Tillie won because she attends a variety of clubs within school and outside of school and shows real dedication and always works hard at the clubs she attends. Tillie always helps the younger
students when attending clubs at Meadow High School when they need a little extra support. Well Done Tillie!
Tillie chose to spend £250 towards equipment for Meadow's new scouting skills group!
---
Leadership Academy
We have had a successful Leadership Academy launch this year. Four Leaders assisted a Change 4 Life Festival at Barnhill School for primary school children. Our Leaders were highly commended by the Barnhill staff who could not speak highly enough about them! We have also supported John Locke Academy and St. Andrew's Primary with their sports taster sessions. This is hopefully the start of many valuable opportunities for our students to access leadership experiences outside of school.
Mr Vincent— PE Faculty Lead
---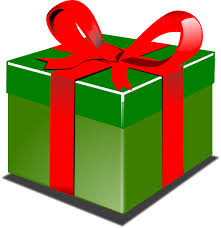 Present Wrappers Needed !
The Friends of Meadow Christmas Shop has taken orders for a fantastic 283 wrapped presents from pupils. We now need to wrap 283 presents. H E L P ! ! !
We'll be having a wrapping session in the 6th Form Hall from 11.15am to 2.15pm, after the Christmas show in school, next Tuesday, 4th December. If you can spare some time to help it would be much appreciated. We have the wrapping paper and Sellotape but if you could bring a pair of scissors that would be a bonus.
If you can make it, please come to School Reception and you will be directed to the 6th Form Hall.
---
---
WINTER CONCERT ARRANGEMENTS—PLEASE NOTE
Tickets have now been allocated for the Winter Concert. If you are attending, please be aware that parking on site is very limited, but we will try hard to fit in as many cars as we can. If possible, please try to use alternative modes of transport and be aware that doors will not open before 9:15 am on the day of your performance. Miss Kepinska— Arts Faculty Lead
---
Friends of Meadow
Christmas Disco
Thursday 13th December
6.30pm—8.30pm
£2.00 per ticket
Refreshments available
(light buffet/squash)
Letters coming home on Monday
---
LOST PROPERTY
Please could parents check that the items of school uniform they have at home belong to their child and if not return it to school.
Please remember to label all school uniform with your child's full name. It is so much easier to reunite lost property with the owner if there is a name inside. Thanks
---
A Ladies' scarf has been left in the School
Reception area which we think belongs to a parent. It is a large pink and white square with coloured butterflies on. If it is yours please could you contact School Reception (01895 443310) so we can reunite you with it. Thanks
---
Foodbank Reminder
The trolley is still in Reception to collect items for Uxbridge Food Bank. Thank you to everyone who has put things in it already. The Foodbank have said they are particularly in need of Christmas treats, but all donations are very gratefully received. Items such as dried and tinned goods, baby nappies and wipes, toiletries are needed. There is a website where you can actually see what items they urgently need and how the donations are used. Visit https://hillingdon.foodbank.org.uk/
---
SHOEBOX APPEAL—UPDATE—BOXES ARE ON THEIR WAY TO GRENADA !
Last year we launched an appeal to fill shoeboxes full of goodies to send to three special schools in Grenada. The school has worked with the Jason Roberts Foundation over a number of years to provide support and expertise to these schools.
Finally, on Tuesday this week, 191 shoeboxes, 17 boxes of paper and colouring pencils and a bag of cuddly toys left the school bound for Grenada ! The Jason Roberts Foundation should receive these before Christmas to hand out to their students.
Many thanks for the kind support of parents, staff and students!
If you would like to read more about the School's work with the Jason Roberts Foundation please visit the School Website to read the whole story.
www.meadowhighschool.org/Learning/International Links/Grenada
---
Great Ormond Street Hospital (GOSH) —Meadow Sixth Form Charity of Last Year (2017-2018)
Clive from GOSH came to visit us during our KS5 assembly last Monday. He gave the Sixth Form students a talk about GOSH and it's history, then thanked them for all their hard work in fundraising £1576 for the hospital. GOSH was the sixth form nominated charity last year. We held lots of activities and fundraising events throughout the year to raise money. We area really pleased and proud of all the students involved.
Head Girl, Catherine, presented the cheque for £1,576.00
What will be our Sixth Form Charity this year ? Look out for information coming up…..
---
Lovely Christmas Cards now available for purchase!
We are excited to inform you that Arts pupils have designed a range of cards based on Christmas and Winter. If you would like to purchase these cards, there is an order form with the card design attached along with a price list. The cards come in packs of 12 and the 1 pack is £5.50 (12 Cards of 6 designs) or 2 for £10:00 (24 cards of 6 designs).

If you would like to order any cards, please email Sarah Ward Via Email: meadow@meadowhighschool.org or telephone Telephone: (01895) 443310
All profits from the sale of the cards will go towards raising funds for future arts concerts and the new school stage curtain.
Letters have also come home this week with order forms. Here are the designs in each pack.
---
Letter to Whole School
Art Department Christmas Cards
Letter to selected pupils
Football Match Meadow vs Pield Heath
Letter to Class JE
Visit to Odeon and Nandos
Letter to selected pupils
Life With Art Workshops
Letter to Class 9LO
New Form Tutor
Letter to Whole School
Parent Questionnaire—Communication Difficulties
Letter to Class 7LP / 7CH
Trip to see The Grinch
Letter to Shining Stars Club Members
No Shining Stars Club next week
Letter to KS3 Thematic Classes
Christmas Crafts Afternoon
---
COMING UP NEXT WEEK:
5-7 December 2018
Christmas Show Week:
(see letters home)
FUTURE EVENTS
13 December 2018
Friends of Meadow Disco
6.30-8.30pm
(Letters home soon)
19 December 2018
ASD Coffee Morning
10.00-11.00am
19 December 2018
Lower School Christmas Lunch
20 December 2018
Upper School Christmas Lunch
21 December 2018
Big Breakfast
Christmas Jumper Charity Day
Last Day of Term—2pm Finish
22,12.18—6.1.19
SCHOOL HOLIDAY
Back to School 7.1.19—9am
16 January 2019
ASD Coffee Morning—10am
24 January 2019
Dyspraxia Coffee Morning
10.00am—11.00am—Library
28 January—1 February 2019
Maths Week
13 February 2018
ASD Coffee Morning
14 & 15 February 2019
Two Annual Review Days
school is closed to pupils
18-22 February 2019
Half Term
4-8 March 2019
World Book Day & Activities Week
14 March 2019
Parents Evening—Years 9, 11 & 6th Form
(including 6th Form Thematic)
15 March 2018
Red Nose Day—Charity Day