Issue 11 - 22 November 2019
Issue 11 - 22 November 2019
Important Information:
We have a few pupils absent from school at the moment with headache, high temperature, sickness and diarrhoea.
If you child displays these symptoms please keep them at home and inform the school of any absence.
Thank you.
---

is coming to Meadow soon…..
watch this space for more information
---
New Parent Governor Appointment
Following on from our request for nominations earlier this term, we are pleased to announce that Georgie Bhad has been appointed as the new Parent Governor with immediate effect. Georgie is a parent of a pupil in Year 8 and has experience which will be valuable to the Governing Body.
To read Georgie's Governor Profile and full information about Governors please visit the School Website under Key Information / Governors.
---
Winter Concerts
It's that time of year again, where students are rehearsing hard putting together exciting, festive Winter performances.
This year, the Winter Concert has been split into three shows: two from the Arts and one from Pathway One students. This is aimed at better-developing the individual needs of each pupil and reducing pressure to perform in front of the whole School. We are trialling Winter Showcase Assemblies, and we welcome your feedback. If your child is in one of the shows, don't forget it's time to get your ticket ! Reply slips should be in by Monday 25th at the latest to guarantee a seat!
The Arts Faculty have 2 shows this Year:
Year 9, 10, 11 and Sixth Form Performing Arts (Drama and Dance) will be on Tuesday 3rd of December
Year 7 and 8 Music Concert will be on Friday 6th December.
The shows start at 9:30am, so please arrive between 9:15am - 9:20am, but no earlier to avoid congestion. Please kindly remember parking is limited and it is advised to use public transport or park off site.
You will receive your seat allocation reply slip next week, so please hurry— don't delay! To help you on your merry way we will have Elves, Santa and a Sleigh, lots of cheer and even a few reindeer!
Miss C Kepinksa— Arts Faculty Lead
---
Sports News
After a disappointing tournament last time around, Mr Morgan regathered the team and headed to South London Special League ready to get some revenge. Mr Millard was left behind this time due to some very poor tactic calls last month.
Meadow were entered into Group B. Some great football was on display, with some fantastic team goals were scored. Meadow ended the day on top of group B 'Champions'! Results were 4 wins and 1 draw with over 10 goals scored and only 1 conceded. Excellent effort by all staff and players!
Mr Morgan—PE Teacher
---
Road Safety Week
It has been road safety week in school this week and class JE have been learning about safe places to cross the road and understanding what different road signs mean. It has been a fun week getting out and about in the local community. Team JE
---
Year 8 Cinema Trip
On Thursday 14th November, all of the Year 8's went to the cinema to see a screening of Abominable'. Everyone was commended by the staff at the cinema for being so polite and well behaved. The students are in the process of writing a review on the film as part of their English work.
Feedbck from the students: "I give it 5 stars" and "I want to see it again". It was a pleasure taking them all on the trip!
Mrs Daniels—Teacher 8LD
---
SUN BOOKS FOR SCHOOLS – FREE BOOKS
Between 23rd November and 18th January, we are asking you, your friends and family and anyone else who reads 'The Sun' Newspaper to collect "The Sun Books For Schools" tokens for us.
If we are able to reach the 3,500 token goal we could get 100 free books for our Library—a huge benefit for our students !
There will also be a box in the Library where tokens can be placed or hand them in at Main Reception.
Thank you.
---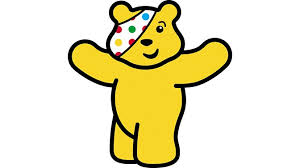 Children In Need Day
We had a great day last Friday fundraising for Children in Need. There was a great atmosphere around the school with staff and students dressed as their hero or in yellow or spots!
The fayre was fun, lots of games to be played and lots of cake to have been eaten !
This was followed by a true Meadow fun assembly, where we discovered who could draw with a blindfold!
Ms Kepinska lost to Mr Rainsbury! Head Boy (Imtiyaz) and Head Girl (Paige) were attached to the two teachers and whoever lost had to do the forfeit. Paige had to take a spoonful of the super-sour sweet 'Toxic Waste' and hold the sweets in her mouth for 30 seconds! Imtiyaz was a good sport and supported her in the forfeit. Both students did really well! We then tested Mrs Rigby's knowledge and quizzed her on the history of Children in Need. For every question she got wrong we filled old wellies with cornflakes, custard, beans, jelly and eggs which she had to wear them at the end of the assembly!
It was a great day and we managed to raise £350.00 for Children In Need.
Miss S Bhopal—Assistant Head
---
FR
IENDS OF MEADOW EVENT !
On Friday 29th November Friends of Meadow are organising a free gig in aid of Meadow High - a very good cause indeed!!
The evening will be kicking off at 7.30pm with our schools very own band Room 22 with some acoustic classics!.
Chalfonics will be on at 8.30pm with a set that ranges from rock and blues to soul, rock 'n roll and boogie-woogie through jazz and country. Something for everyone, and all with a Chalfonics twist.
There will be a full bar and probably have a guest or two as well. We will also be having a raffle, with great prizes to be won!
We really hope that you can make it. It will be a fun evening with proceeds from the night going to a great cause.
Please note this is an adult only event.
The Venue: The Memorial/Community Centre,East Common, Gerrards Cross, Bucks SL9 7AD…..
seconds off the A40 with parking
Thank you
Friends of Meadow / Room 22 / Chalfonics
---
Workshops starting in January 2020 at the Dogs Trust Rehoming Centre
(Highway Farm House, Harvil Road, Harefield, Uxbridge, Middlesex, UB9 6JW).
Other venues include Twickenham and Epsom.
---
Letter to selected pupils
Pathway 1 Makeup Consent for Pantomime
Letter to selected pupils
Leadership Opportunity—Pinkwell
Letter to selected pupils
Trip to Uxbridge
Letter to selected pupils
Year 7 and 8 Showcase Assembly
Letter to selected pupils
Winter Showcase Year 9. 10, 11 and Sixth Form
Week: 25-29 November 2019
WEEK 3
(Autumn/Winter Menu)
Thursday 28 November 2019
Celebration of Achievement Evening
Invitation only
Wednesday 4 December 2019
Training Day
SCHOOL IS CLOSED TO PUPILS
Wednesday 4 December 2019
Annual Reviews—selected pupils
Thursday 5 December 2019
Pathway 1 Winter Showcase
1.45pm—More Information to follow
Thursday 12 December 2019
Friends of Meadow Disco
6.30pm—8.30pm
More information to follow!
Wednesday 18 December 2019
ASD Coffee Morning - 11.15am
Thursday 19 December 2019
Last day of Term
School finishes at 2pm
Friday 20 December 2019 to
5 January 2020
SCHOOL HOLIDAY
Monday 6 January 2020
Back to school—9am start.