Football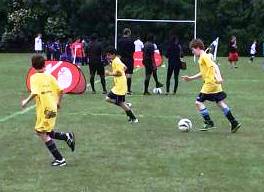 In May 2014 we saw another instalment of the London Youth Games Football. Taking place at the Hackney Marshes against all the Boroughs in London.
Meadow built a team of boys (year 9 and under) and girls (year 10 and under) for Hillingdon.
Both teams performed exceptionally well and worked really well as a team.
Unfortunately they did not make it through to the next round but there is always next year!
2014 is the 10th Anniversary year for the South London Special League and it fell on a World Cup year! To celebrate the achievement they held a summer festival at the London Marathon Playing Fields. In this festival each school would be assigned a country to battle it out to win the World Cup!
Meadow's under 16 team was assigned Italy and took to the group stages against Cameroon and Mexico. We came runners up in the league with 2 draws but were through to the last 16 against Spain. Unfortunately, against the run of play we conceded 2 goals and lost the match but this undoubtably the best tournament performance of the year.