Drumming Workshop 2016
African Drumming Workshop June 2016
On Tuesday 21st June 2016 the stormy rain clouds lifted over Meadow High School and suddenly we were doused in a ray of African light. There was an exciting buzz in the air as the students gathered for their first African drumming work shop!
Out came the striking presence of Papis Mane dressed in tradition Senegalese patterned clothing and a mane of long flowing dreadlocks to boot! Quite a surprise for many of our students, as he started drumming Jursan exclaimed a "Master, a master, a drumming master!" and so the drumming began. The fast and dynamic Djembe beats started to resonate through the school, and things only got better; drumming laughter, percussion and singing were all part of the rich mornings activities. We even learnt to speak Senegalese, learnt about the history of Djembe drumming and tried traditional West African dancing.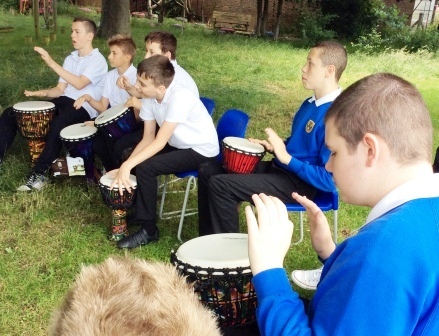 This exciting workshop was only possible with the generous support of the Jack Petchey fund. Jack Petchey encourages opportunities which are outside the normal school curriculum and which allow pupils to have new life experiences.
This prize was selected by Davyd (Year 14) for the whole school to enjoy. The year 9 did the main workshop and over break pupils from the rest of the school were invited to come and have a go in an 'Open Mic.' free style session, creating a lively festival atmosphere on the fields.
Here are a few quotes from the pupils
"I was great!" Billy

"I was really good, Miss!" Isaiah

"How does he do his hair?" Azita

Miss Kepinska
Faculty Head of Arts