Drugs Education Policy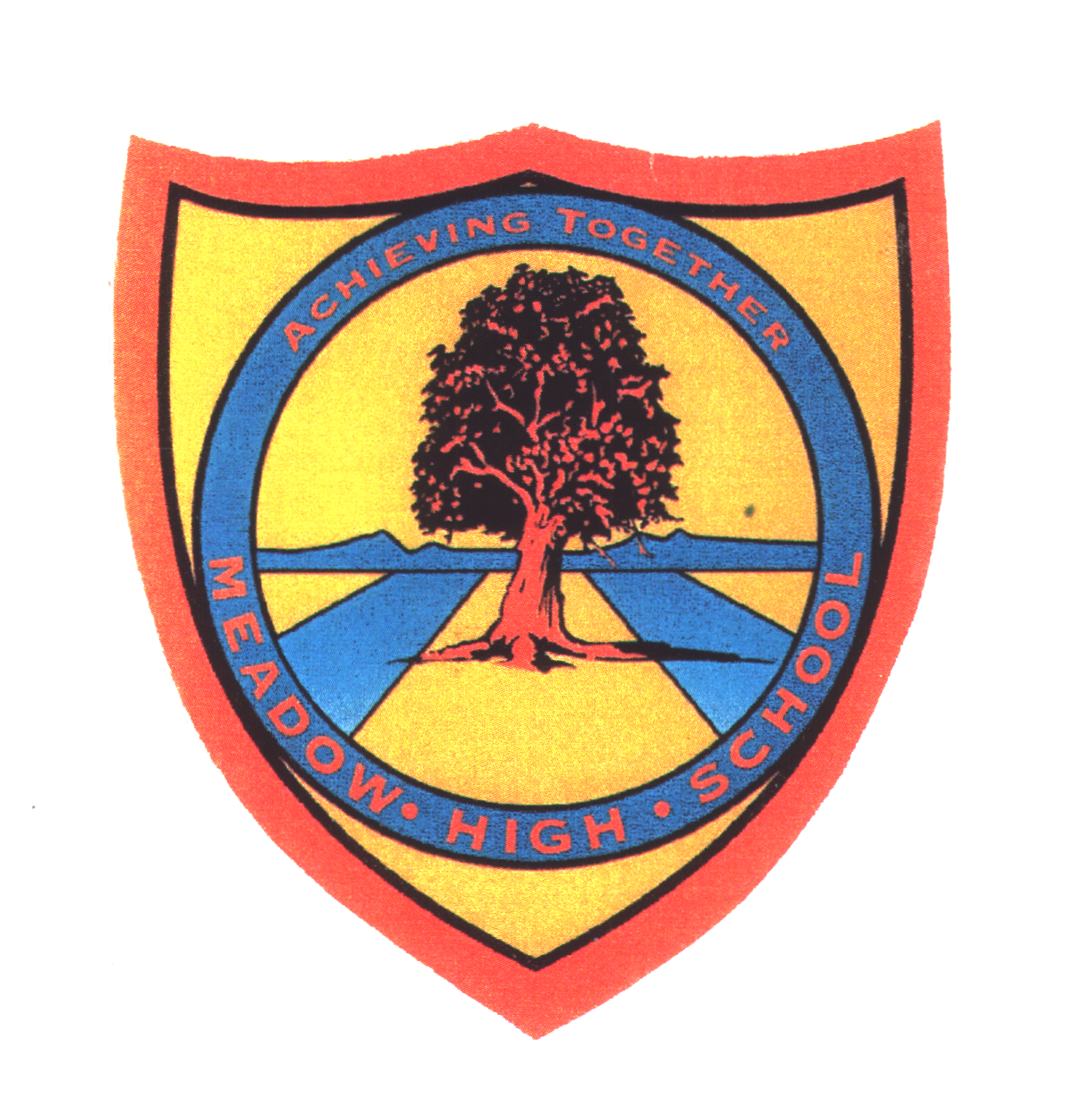 Meadow High School
Drugs Education Policy
| | |
| --- | --- |
| Date of Approval: | November 2011 |
| Effective Date: | November 2011 |
| Revised Date: | May 2014 |
| Review by Date: | May 2015 – reviewed May 2019 |
| Policy/Procedure Author: | J. Richards |
Drugs Education Policy
Aim
The school has a whole-school approach to drugs as part of its commitment to being a healthy school. The policy aims to enable pupils to make informed choices by increasing their knowledge and providing opportunities for them to explore their own and others' attitudes.
The annex to this policy names the relevant drugs and the procedures agreed by the governing body to be followed when any misuse has been identified. To protect the safety and well-being of all pupils and staff, drugs must not be possessed or bought, sold, or otherwise obtained on school premises or during the school day, including when pupils are on school visits. The policy and procedures apply to all adults working at and for the school. Individul exceptions will be made for pupils and staff who need to take prescribed medicines.
Main ECM outcomes: Be healthy; Stay safe
Definition of Drugs
"Drugs" are taken here to mean those that are legal, such as alcohol, tobacco and solvents, over the counter and prescribed drugs, and illegal drugs such as cannabis, ecstasy, amphetamines, heroin, crack/cocaine, LSD, Novel Psychoactive Substances (NPS) and any other substances covered by the 1971 misuse of drugs act; psychoactive substances act 2016, or that is subject to a temporary class drug order (TCDO).
The school prohibits all substances having psychoactive effects on the brain: depressants, stimulants, cannabinoids, and hallucinogens. The school believes that the possession and or use of such drugs in school, during the school day or while travelling to/from school is inappropriate. The drugs/substances covered by this policy are not to be bought, sold or otherwise exchanged or brought onto school premises during the school day, or while pupils are on school visits. Individual exceptions may be made for pupils who require prescription medicines where appropriate.
Drug education of pupils with special educational needs (SEN)
Pupils with SEN within all educational settings should receive their entitlement to drug education. Teachers may need to focus more on developing pupils' confidence and skills to manage situations which require making decisions about drugs.
In planning drug education for pupils with special educational needs teachers will need to consider whether:
Certain pupils should be given opportunities to revisit knowledge and skills in different contexts

Activities should be adapted to provide support for pupils with difficulties in cognition and learning or communication and interaction, modelling, role play and mechanisms for recording pupil's thoughts that do not rely on written on written materials
Strategies to increase access include:
Using information and communication technology (ICT) or exploring realistic scenarios to compensate for a lack of first-hand experience in some social situations

Organising visits and providing real-life examples portrayed through theatre-in-education

Using specialist equipment and material such as sensory, large print and symbol textbooks.

Not relying on written communication
Where and to whom this policy applies
This policy applies to all school staff, students, parents/carers, governors and other partner agencies working with the school. The policy applies to the school premises, the school day, while travelling to and from school, journeys in school time, work experience, day and residential trips and when the school is deemed to be in loco parentis.(The legal definition of school premises includes everything within the property boundaries including buildings, outbuildings, playgrounds, fields and also extends to include other settings such as vehicles, boats, marquees or any venue managed by the school at the time e.g. premises of a school trip or visit.)
Location and dissemination
This policy is available to any parent/carer who requests it and is uploaded to the school website. Copies are available to all staff though the school website and the shared curriculum drive under 'Policies'
Local and national references
'Drug Strategy 2010 2010 HM Government
Reducing demand, restricting Supply, building recovery: Supporting people to live a drug free life'
'DfE and ACPO Sept 2012 DfE drug advice for schools'
'Smoking, drinking and April 2012 DfE use survey - 2009'
PSHCE Key Stage 3 & 4 PoS Nov 2011 DfE (non-statutory programme of study)
Science and Citizenship Nov 2011 DfE Key Stage 3 & 4 PoS
Roles and responsibilities
The Head teacher will ensure that:
A planned drug education programme is provided as part of learning in PSHE and science that reflects knowledge and understanding, attitudes and personal and social skills

Teachers, if possible, should be provided with training and guidance so that they are confident and skilled to teach drug education and to respond to drug-related incidents

Pupils are aware of the rules on drugs and of the consequences of breaking them

Clear procedures are in place for responding to drug-related incidents

Those pupils who have a concern about drugs are provided with support

Sanctions for incidents are consistent with the school's discipline policy

The school actively co-operate with other agencies such as community police, social services, the LA and health and drug agencies.
He/she will also work with staff to develop schemes of work, order resources and identify in-service training needs.

Liaise with outside agencies re-counselling and services available within the borough

Keep up to date with national developments.

Work alongside staff and Governors in incidents involving drug misuse.

Monitor and evaluate the effectiveness of the policy and schemes of work.
All staff are expected to:
Report incidents of drug misuse to the Head teacher

Promote positive attitudes towards healthy lifestyles

Enable young people to identify sources of appropriate personal support
All teachers are expected to:
Enable pupils to make healthy, informed choices by increasing knowledge, exploring their own and other people's attitudes and developing and practising personal skills to resist peer group pressure, and help friends and relatives involved in drug misuse

Provide accurate information about substances

Widen their own and the pupils' understanding of related health and social issues, e.g. sex and sexuality, crime, HIV and AIDS

Report any incidents of allegations of drug misuse by staff directly to the Head teacher.
Pupils will be expected to:
Follow the school rules

Alert the staff to any drug-related incidents on or around the school site
Parents will be encouraged:
Endorse the school's approach to drugs education

Work in partnership with the school to overcome the misuse of drugs
The governing body will ensure that its members are well-informed about the drug education programme, the potential for drug abuse and how to respond to drug-related incidents
Ensure necessary resources and training are made available;

Will work with parents/carers and the community to promote a positive image of the school policy;

Endorse the policy of the school and support the Head teacher and staff when questioned;

Keep themselves informed of trends and current legislation;

Monitor the implementation of the policy.
(See Appendix for more information)
Arrangements for monitoring and evaluation
The head teacher will report at least once a year on the programme for teaching about drugs, the number and nature of drug-related incidents, and the outcomes of any disciplinary proceedings. These will be analysed by gender, ethnicity and year group and compared with previous years.
---
Appendix
Guidelines for Practice
Dealing with incidents
All staff and pupils should have clear guidelines of what to do if a drug related incident occurs.
Responses to drug related incidents
A drug incident may be any of the following:
Finding drugs, or related paraphernalia, on school premises

Possession of drugs by an individual on school premises

Use of drugs by an individual on school premises

Supply of drugs on school premises

Individuals disclosing information about their drug use

Student reports of parents, staff or students using drugs

Hiding drugs in or around the school premises for later collection (by themselves or by third parties)

Glamorising or encouraging the use of drugs and other substances
Action by staff
In any drugs related incident the safety and welfare of the pupil is paramount. Staff should inform the Head teacher of any incident or disclosure relating to the use of drugs. He will decide the appropriate course of action.
Confidentiality
At any time that a student discloses, staff should at no time, promise complete confidentiality. Instead state: 'if you tell me I promise I will only tell the people I need to so that we can help you'.
What to do if:
"Drugs are found on the school premises":
If a substance is found which is believed legal to possess, but against school rules: if there is no danger to staff, the substance should be confiscated. Section91 of the Education and Inspections Act 2006 enables a member of staff to confiscate, retain or dispose of a pupil's property as a disciplinary penalty, where reasonable to do so.
Where the person finds other substances which are not believed to be controlled drugs these can be confiscated where a teacher believes them to be harmful or detrimental to good order and discipline. This includes new psychoactive substances.
If school staff are unable to identify the legal status of a drug, it should be treated as a controlled drug (taken from DfE and ACPO drug advice for schools – September 2012.)
Schools are not required to inform parents before a search takes place or to seek their consent to search a child. Complaints about searching should be dealt with through the normal school complaint procedure.
Cigarettes/Alcohol/aerosols
These should be passed to the Head teacher who will record the incident in the incident file located in his office, decide appropriate action and then dispose of the substance.
Illegal or unidentified substance confiscated
The Head teacher informed, packaged with the time/date and place of finding attached. The finder should sign his/her name and this action witnessed by a colleague. The Head teacher will then contact the School Liaison Officer from the Safer Schools Partnership who will collect the substance either for disposal or analysis as appropriate.
Parents/carers will be informed by the Head Teacher as soon as possible after an incident has been reported and emergency procedures carried out. The Head Teacher will consider involving outside agencies such as Healthy Hillingdon (sorted, Young People's Drug & Alcohol Team), Social Services etc. See Appendix 4 (referral procedure). Meetings and care plans will be scheduled.
A pupil is found in possession of drugs
This will require sensitive handling. The Head teacher, member of SLT is permitted to search a pupil, but may invite them to empty their pockets or surrender the substance. It is essential that another member of staff is present as a witness so that actions and conduct of staff can be verified at a later date. Regardless of whether or not substances of concern are found, it is important that a record of the person searched, the reason for the search, the time/place, who was present and a note made of the outcomes and any follow up action be made.
In taking temporary possession and disposing of any suspected controlled drugs, schools are advised to:
Ensure a second witness is present throughout;
Seal the sample in a plastic bag and include details of the date and time of the seizure/find and the witness present;

Store it in a secure location, such as a safe or other lockable container with access limited to senior members of staff;

Notify the police without delay, who will then collect it and store or dispose of it in line with locally agreed protocols. The law does not require a school to divulge to the police the name of the pupil from whom the drugs were taken but it is advisable to do so;

Record full details of the incident, including the police reference number

Inform the parents/carers, unless this is not in the best interests of the child;

Identify any safeguarding concerns and develop a support and disciplinary response.
If a pupil refuses to the search, refer to: Behaviour Policy – procedures for pupil's behaviour causing concern.
Procedure is then the same as (1) consideration should also be given to whether:
the issue should be discussed with the class

individuals spoken up

whether monitoring be put in place for further signs.
Staff suspect a pupil of being under the influence of drugs
Safety of the student is paramount and prompt medical advice and assistance should be sought from the Welfare Assistant and Standard Emergency Procedure taken if necessary. Staff should try to find out what has been taken for medical or safety reasons. Staff should then follow the same procedures as (1).
Disclosure during a discussion on drugs
Before any discussion it is important to discuss the limits of confidentiality and what may be openly discussed and what may not. It is also possible for the teacher to stop the discussion and tell pupils that if they continue to disclose then the teacher will have to take certain action. This gives pupils a choice whether to disclose.
A one to one disclosure
Follow the same guidelines, plus inform the Head teacher and record via 'My Concern.' The Head teacher will decide whether to inform parents, Police Schools Liaison Officer or other outside professional agencies. The school will have an important role in support and monitoring the pupil. Outside professionals – if the pupil needs assessment Healthy Hillingdon (sorted; Young People's Drug & Alcohol Team).
Staff become aware of availability of drugs in the school vicinity
If drugs are being sold on or near school premises the Head Teacher should be informed. Try to verify this by seeking police advice.
The options for the school are:
Police investigation may be necessary.

It may be a rumour in which case the Head Teacher will seek Police advice.
In the event that pupils are purchasing cigarettes, alcohol or solvents from local shops, the Head Teacher will contact the Police School Liaison Officer and Trading Standards about the inappropriate supply of tobacco, alcohol or volatile substances to pupils in the local area.
Warning signs of possible misuse
Some signs of drug abuse can be confused with signs of other problems of quite innocent behaviour. Therefore, it is important that all staff (teaching and non-teaching) should take extreme care about not jumping to a conclusion, which might be inappropriate. ALL CONCERNS ABOUT ANY PUPIL MUST BE RECORDED ON 'MY CONCERN.'
In order to support staff in their identification of possible drug mixtures amongst students, we have grouped signs into three categories.
Equipment that may be used for drug use

Containers made from silver foil (perhaps discoloured by heat.)

Small bottles or pillboxes

Stash cans – disguised as everyday objects e.g. deodorants or coke cans

Twists of paper

Straws

Syringes or needles

Empty solvent containers

Cigarette lighters

Drinks cans with extra holes and signs of scorching

Spoons discoloured by heat

Sugar lumps

Spent matches

Plastic bags or butane gas containers

Stamps, stickers, transfers

Grinders

Physical symptoms/signs of drug use

Sudden changes in mood/behaviour, unusual outbreaks of temper

Disregard for physical appearance

Loss of appetite or increase in consumption of set foods

Use of deodorant to cover smell of drugs or solvents

Drowsiness, sleepiness or slurred speech

Unusual small, stains or marks on clothing or body, the mouth, nose

Marked interest in glue or solvent based products

Soreness or redness around the eyes or mouth

Flushed face or neck

Dilated pupils

Small groups meeting in secretive places

Unsteady on feet

Staining on hands

Social Presentation

Keeping away from other students

Being the subject of rumour about drugs

Use of drug slang

Excessive spending or borrowing of money

Unexplained loss of money or belongings from home

Perpetual stealing of money or goods that are then sold

Changes in attendance patterns

Reluctance to participate in school activities

Loss of interest in a sport or a hobby

Sudden changes in friendship group

Performance at school shows a marked decline

Strangers on or around the school premises
Discipline and Sanctions
If a pupil is found smoking or with cigarettes, or drinking alcohol, the incident should be reported to the Head Teacher. The incident will be recorded in 'My Concern' and on a referral form. The cigarettes will be confiscated, and parents contacted and pupils warned that a repeat of the incident will lead to a possible suspension/exclusion.
The same procedure will take place where other substances are used or possessed. However the Schools Liaison Officer would also be contacted in these incidents for advice and then the most appropriate action would be taken by the Head Teacher i.e. (a) reporting to Chair of Governors, (b) advising Social Services, (c) contacting Healthy Hillingdon (sorted, Young People's Drug & Alcohol Team), (d) contact support agencies, (e) consider exclusion/suspension.
Organisation of the Curriculum
Meadow High School Drugs Education is taught as part of the PSHCE and Science programme. It is vital to ensure that the content, teaching and learning approach are appropriate to the needs, understanding and maturity of the pupils. It should also reflect the pupil's local circumstances, current knowledge and attitudes towards drugs.
There are numerous approaches to the teaching of drugs education. In order to meet the needs of the pupils at Meadow High School, teaching will focus on exploring attitudes, giving information and developing skills as the principal prevention strategy for our drugs education programme. Only where careful consideration has been given to its purpose will the "don't do it", shock horror approach be used.
The content of the programme relates to Curriculum guidance 5 (Health Education 1990 Drugs Education Curriculum for Schools 1995) and the Science Orders in the National Curriculum (1995). The programme has been reviewed in light of the DfE guidance issued February 2004 Drugs: Guidance for schools. The focus of the programme is on the pupils themselves and should help them to:
Assimilate information,
Acquire relevant skills,
Explore their feelings and attitudes and as a result will be able to make informed choices and decisions.
Key Stage 3
Year 7: Look at the purpose of medicines and drugs when they are necessary and who is responsible for administering them.
Smoking – the effects, reasons for starting.
Peer pressure.
Year 8: Reinforce the role of medicine.
Explore the fact that not all drugs are medicines.
Alcohol: reasons for drinking/what are alcoholic drinks?
What are the consequences of drinking?

Year 9: Look at other substances i.e. aerosols, solvents, other illicit drugs.
Effect of taking them. Peer pressure. Assertiveness skills.
Be aware of risks and consequences.
Key Stage 4
Year 10: Explore healthier lifestyles and alternatives to drug use.
Take responsibility for decisions they make about drug use.
Effect on the Community of drug use.

Year 11: Look at the legal position of drugs.
Risks and consequences of drug taking, physical, emotional, mental and financial.
Agencies that can offer help.
Post 16
Year 12/13: Revisit past work to reinforce.
The media, fashions, trends and other influences.
Wider implications to the Community.
Monitoring and Evaluation of the Programme
This is covered annually through the review of Programmes of Study in the Vocational Faculty. There are various techniques available to monitor and evaluate the knowledge acquired, attitude change, skill development and how young people feel about the sessions.
It is the responsibility of the PSHE and Drugs Coordinator to implement an effective evaluation process.
Training Needs
All staff at Meadow High School have a pastoral responsibility and may be involved in some areas of drug education. To facilitate effective teaching and tutoring it is desirable that all staff attend a basic drugs awareness programme. Governors and non-teaching staff also need to be aware of basic drug issues and the procedures outlined. As PSHCE is the main vehicle for drug education at Meadow High School, staff will need training so that they feel confident and adequately prepared to deal with the complex issues which may arise.
Links to other policies
Child Protection - Confidentiality
Health and Safety - Violence to staff – LEA Guidelines.
- Ap.B Duties and Responsibilities of staff.
Behaviour Policy - Rules
Procedure for refusal to carry out a reasonable request.
Medical and Welfare Needs
- (v) Safe storage, handling and disposal of medicines, spillage.
- (ix) Emergency Procedure.
Use of Outside Agencies
Both the Curriculum Advisory Service and the Healthy Hillingdon have been consulted in the formulation of this policy.
Where appropriate these agencies will be involved in working with the PSHCE to continue development of Drugs Education in the School.
Useful organisations:
ADFAM offers information to families of drug and alcohol users, and the website has a database of local family support services.
Tel: 020 7553 7640 Email: admin@adfam.org.uk Website: www.adfam.org.uk
Alcohol Concern works to reduce the incidence and costs of alcohol-related harm and to increase the range and quality of services available to people with alcohol related problems Tel: 020 7264 0510. Email: contact@alcoholconcern.org.uk Website: www.alcoholconcern.org.uk
ASH (Action on Smoking and Health) A campaigning public health charity aiming to reduce the health problems caused by tobacco. Tel: 020 7739 5902 Email: enquiries@ash.org.uk Website: www.ash.org.uk
Children's Legal Centre operates a free and confidential legal advice and information service covering all aspects of law and policy affecting children and young people. Tel: 01206 877910 Email: clc@essex.ac.uk Website: www.childrenslegalcentre.com
Children's Rights Alliance for England - A charity working to improve the lives and status of all children in England through the fullest implementation of the UN Convention on the Rights of the Child. Email: info@crae.org.uk Website: www.crae.org.uk
Drinkaware - An independent charity that promotes responsible drinking through innovative ways to challenge the national drinking culture, helping reduce alcohol misuse and minimise alcohol related harm. Tel: 020 7307 7450 Website: www.drinkaware.co.uk/
Drinkline - A free and confidential helpline for anyone who is concerned about their own or someone else's drinking. Tel: 0800 917 8282 (lines are open 24 hours a day)
Drugwise is a centre of expertise on illegal drugs, aiming to inform policy development and reduce drug-related risk. The website includes detailed drug information and access to the Information and Library Service.
DrugScope also hosts the Drug Education Practitioners Forum. Tel: 020 7520 7550 Email: info@drugscope.org.uk Website: www.drugwise.org.uk
FRANK is the national drugs awareness campaign aiming to raise awareness amongst young people of the risks of illegal drugs, and to provide information and advice. It also provides support to parents/carers, helping to give them the skills and confidence to communicate with their children about drugs. 24 Hour Helpline: 0800 776600 Email: frank@talktofrank.com Website: www.talktofrank.com
Mentor UK is a non-government organisation with a focus on protecting the health and wellbeing of children and young people to reduce the damage that drugs can do to their lives. Tel: 020 7739 8494. Email admin@mentoruk.org
Website: www.mentoruk.org