Attendance Policy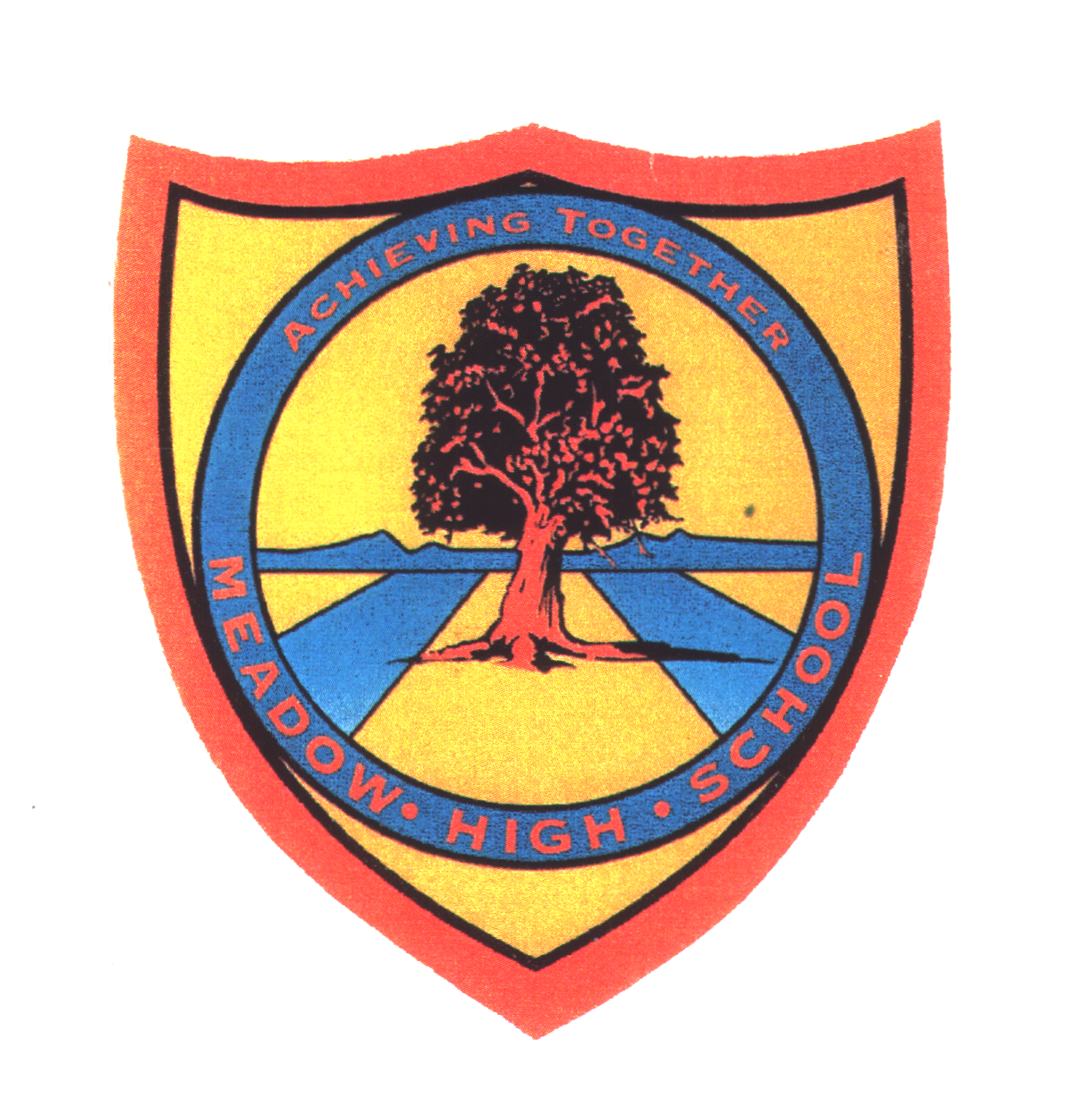 MEADOW HIGH SCHOOL
ATTENDANCE POLICY
The Staff at Meadow High School, with the full support of the Governors, aim to provide the highest standard of education in a safe, secure and confidence building environment for students with moderate and complex learning difficulties including Autism.
The School Vision and Aims:-
The Right to Education
Meadow High School believes that children's right to education as set out in Every Child Matters (ECM) is still appropriate which means:
Be healthy
Stay safe
Enjoy and achieve
Make a positive contribution
Achieve economic well being
Meadow High School Vision and Aims compliment this and are as follows:
Vision
Our School will provide a happy, safe and stimulating learning environment, where everyone will be inspired and supported to do their personal best.
Aims
Our Aim is that all children and young people at Meadow High School are entitled to an appropriate education, one that meets their needs, promotes high standards and the fulfilment of potential.
We promise to:
have high aspirations and expectations for all our pupils
ensure that individuals achieve their personal best
encourage independence, life skills, self-confidence and positive self esteem
help our pupils to become confident individuals living fulfilling lives
support our pupils to make a successful transition into adulthood, be this employment, further education or training
have an inclusive community, which values truth, diversity and mutual respect
have effective communication with all parents/carers and other partners
recognise, celebrate and record the achievements of all
The Human Rights act also identifies the following entitlement:
The right to education, play, leisure and cultural activity.
The right to protection from work exploitation.
The right to special care and social integration for children and young people with disabilities.
The right to have a say in issues that affect them.
Legal Framework
Meadow High School works with the Participation Service and the Education Authority to support in enforcing the legal framework as defined in The Education Act 1996 and The Children's Act 1989 (section 36). There are responsibilities for parents, schools and the LA.
Roles and Responsibilities
Parents/Carers
Have a legal responsibility to ensure the regular and punctual attendance of their child/ren
To work in partnership with the school
Ensure a good attitude to learning
To meet the social and emotional needs of their child/ren
Pupils
Listen to parents and the school
Communicate with parents and the school about any worries or anxieties
Go to bed at an appropriate time and come to school on time and ready to learn
The School
To provide a welcoming and safe environment
To communicate with parents and carers
To provide education appropriate to their child
To promote excellent attendance for all
To notify parents when a pupils attendance falls below 90%
To keep accurate and up to date records on children's punctuality and attendance and to liaise with the LA regarding concerns over children's attendance
To inform the LA of any pupil who has unauthorised absence of 10 consecutive days or more
To provide a welcome return to pupils who have been absent and helping them to catch up on missed work
The Governors
To ensure there is clear policy and guidance applied fairly by the Head Teacher
To set attendance targets and monitor attendance data.
To appoint a governor with responsibility for behaviour and attendance
Types of Absence
Every half-day attendance is recorded at school, in the morning and afternoon registration.
Morning registration is at 9.00am. Afternoon registration is at 1.30pm. Absence from school has to be classified by the school (not the parents) as either AUTHORISED or UNAUTHORISED. This is why information about the cause of any absence is always required, (preferably in writing) together with a phone call from the parent to the school on the first day of absence.
Authorised absence away from school is granted for illness; medical/dental appointments; (which it may be necessary to attend in school time) emergencies or other unavoidable cause. Medical evidence may be required to support these absences, particularly where there are existing concerns about your child's attendance.
Unauthorised absences are those which the school does not consider reasonable. These include parents/carers keeping children off school unnecessarily such as birthdays, tiredness, day trips, etc. Please note the school cannot sanction holidays in term time and any family taking a holiday in term time will be issued with a fixed Term Penalty Notice upon their return to school of £60 per parent per child raising to £120 if not paid within 28 days or a summons to the Magistrates Court.
Evidence must be provided for all appointments, for example: Hospital Clinic letter, GP/Dental appointment cards; prescribed medication - otherwise your child's absence may not be authorised.
Please be aware the London Borough of Hillingdon will only issue a Fixed Penalty Notice once. Any following period of unauthorised absence could result in a Summons being issued by a Magistrates Court.
6th Form Students are at risk of losing their place in the 6th Form if their attendance falls below 90%. Their benefit entitlement may also be affected where appropriate.
Home School Links
School request that parents/carers:
Always telephone school on the first day of absence to give a reason for the absence, and if possible a return date.
Update contact details when necessary to ensure good communication.
Parents are encouraged to contact the school if they need support to resolve difficulties with attendance and punctuality.
School will:
Telephone you on the first day of absence if we have not heard from you
Contact parents first if there are concerns about a child's attendance.
Invite you in to discuss the situation with our Attendance Officer, Assistant Head, Deputy Head or Head Teacher if absences persist
Refer the matter to our Participation Officer if the attendance of your child continues to be of concern (less than 90% attendance)
If school has no contact when a child is absent and we are unable to contact you on any of the given contact numbers, staff may do an unannounced home visit to ensure your child is safe or contact the police to complete a welfare check
Persistent Absenteeism (PA)
A pupil becomes a 'persistent absentee' when they miss 10% or more schooling across the year for whatever reason. Absence at this level is doing considerable damage to any child's educational prospects and we need parent's fullest support and cooperation to tackle this.
We monitor all absence thoroughly. Any case that is seen to have reached the PA mark or is at risk of moving towards that mark is given priority and you will be notified immediately and a meeting in school may be arranged to discuss the matter further.
The school positively reinforces good attendance and punctuality by:
Awarding certificates at the end of each term to those children who have attended 100% of the time, or have an excellent attendance record of 98% and above.
Occasionally running an incentive programme which award prizes to the best attendees or those who are always punctual.
Dealing with bullying immediately and firmly.
Providing support for those children who are experiencing difficulties with coming to school
Liaising with appropriate agencies where support for parents is needed.
Providing curriculum advice to children and parents concerning health matters
Providing Pastoral Support Plans for those pupils at risk of exclusion
Providing a breakfast club to encourage children to arrive early and start the day in a calm fashion, and offer a healthy breakfast
The Participation Officer:
Parents and school are expected to work together to resolve any issues that may be contributing to your child's poor attendance. If issues cannot be resolved the school may refer your child to the Participation Officer from the Local Authority. He/she will try to resolve the situation by agreement but, if this is not successful and unauthorised absences persist, these officers can use sanctions such as Penalty Notices, currently £60, per parent per child, rising to £120 if unpaid after 21 days. If unpaid after 28 days a summons to Court will be issued for each unpaid Penalty Notice, or prosecutions in the Magistrates Court. The legislation is the Education Act 1996 sec. 444(1) and 444(1A). 'If any child of compulsory school age who is a registered pupil at a school fails to attend regularly at the school, his/her parent is guilty of an offence'.
Punctuality
Poor punctuality is not acceptable; lateness can have a detrimental effect on:
The child's learning
The learning of others
The child's sense of belonging
The child's behaviour
Pupils are allowed on site from 8.45am, (unless attending Breakfast Club which opens to pupils at 8.30am). Registration is at 9.00am. If your child arrives at school between 9.05am and 9.25am they will receive a late mark. After this time the mark will show that they are on site but it is recorded as an Unauthorised Absence (unless they come to school on school transport), or a valid reason is given such as medical or dental appointment. If your child is persistently late a meeting in school will be arranged to discuss the matter. If no improvement following this meeting you could face the possibility of being issued a Penalty Notice.
Request for Exceptional Leave
There is NO entitlement in law to time off from school during term time.
Hillingdon schools are encouraged to adopt a policy of not authorising Exceptional Leave.
Statutory regulations demand that parents make exceptional requests in writing to the Head Teacher. This letter must contain the reason for the request and the dates, including the return date, and proof of when the flight booking/hotel booking was made (if applicable). Each request will be considered individually and various factors will be taken into account, such as:
Reason for absence
The child's attendance history
Efforts made to minimise the number of school days taken
Efforts made to link this to a school holiday
You have avoided important school events such as examinations
Exceptional circumstances could include:
Service personnel returning from a tour of duty abroad where it is evidenced the individual will not be in receipt of any leave in the near future that coincides with school holidays.
Where an absence from school is recommended by a health professional as part of a parent or child's rehabilitation from a medical or emotional issue.
The death or terminal illness of a person close to the family, (medical evidence may be requested)
To attend a wedding or funeral of a person close to the family. (evidence may be requested)
Where there are exceptional and unforeseen circumstances that fall outside of 1 to 4 above, the Head teacher will agree or not to the individual request.
Please note that exceptional leave will NOT be granted:
Those with poor attendance, less than 95%
Patterns of absence become identified
School is aware of truancy
During school examination and assessment periods.
If children do not return by the agreed date and we have had no notification of where the child is (contained in the letter of request and the Head Teacher's authorisation) then following a further 10 day period the child can be removed from the school role and the school will report the child as missing in Education to the Local Education Authority.
If there are extenuating circumstances which prevent return on the planned date it is essential that parents make every effort to contact the school and explain the reason for the continued absence and provide evidence.
If your child does not return to school within 20 days following a school holiday your child is at risk of losing their place at Meadow High School.
Breakfast Club
The Breakfast club is open at 8.30am. Hopefully parents will encourage their child to use this where there are attendance and/or punctuality problems.
Breakfast club will benefit pupils in the following ways:
It will help with punctuality and attendance.
It will provide a calmer start to the day.
It will support friendship groups.
We can provide healthy food for children at the start of the day.
A healthy, calm start to the day will contribute to better concentration in class.
People responsible for attendance matters at Meadow High School are:
Ms. B Gamble, School Welfare and Attendance officer
Your child's Form Tutor
Miss A Willis, Assistant Headteacher Thematic 7-14
Mr. M Rainsbury, Assistant Headteacher Years 7/8
Ms. J Richards, Assistant Head teacher Years 9/10/11
Mr. A Bunker, Assistant Headteacher Years 12/13/14
Ms. C Caddell, Deputy Head teacher
Mrs. J Rigby, Head teacher
Mr. J Goodbody, Governor with responsibility for safeguarding
Mr. G Vickery, Deputy Governor with responsibility for safeguarding
Updated: 15/05/2018
Reviewed: 16/05/2019