Arts Clubs
The Wide Variety of Arts Clubs is a real strength in the school and gives pupils an enormous breadth of learning opportunities outside the classroom
Art Club
There are two clubs offered in Art one is aimed at helping support pupils doing Accredited courses to access higher education. This is a Gifted and Talented club and is currently run on the request of individual pupils at lunchtime for GCSE and A level students.
The second is Backstage Production Club and this is an after school club focused on building props alongside rehearsals for the school production (for more details please see Scriptwriters and Production Club).
Dance club
Dance Club continues to develop from strength to strength. It remains a popular club taking over 40 students each week to participate in learning new dances, developing technique and free styling to pop music. It has also been a prominent part of 6th form Dance Lead coursework to show as evidence for them to lead small tasks to younger participants. The club has allowed different students of all ages and abilities to work together, rehearsing for a range of school events, assemblies, concerts and productions.
Below, the Dance Club show of their new tops, purchased with Jack Petchey money.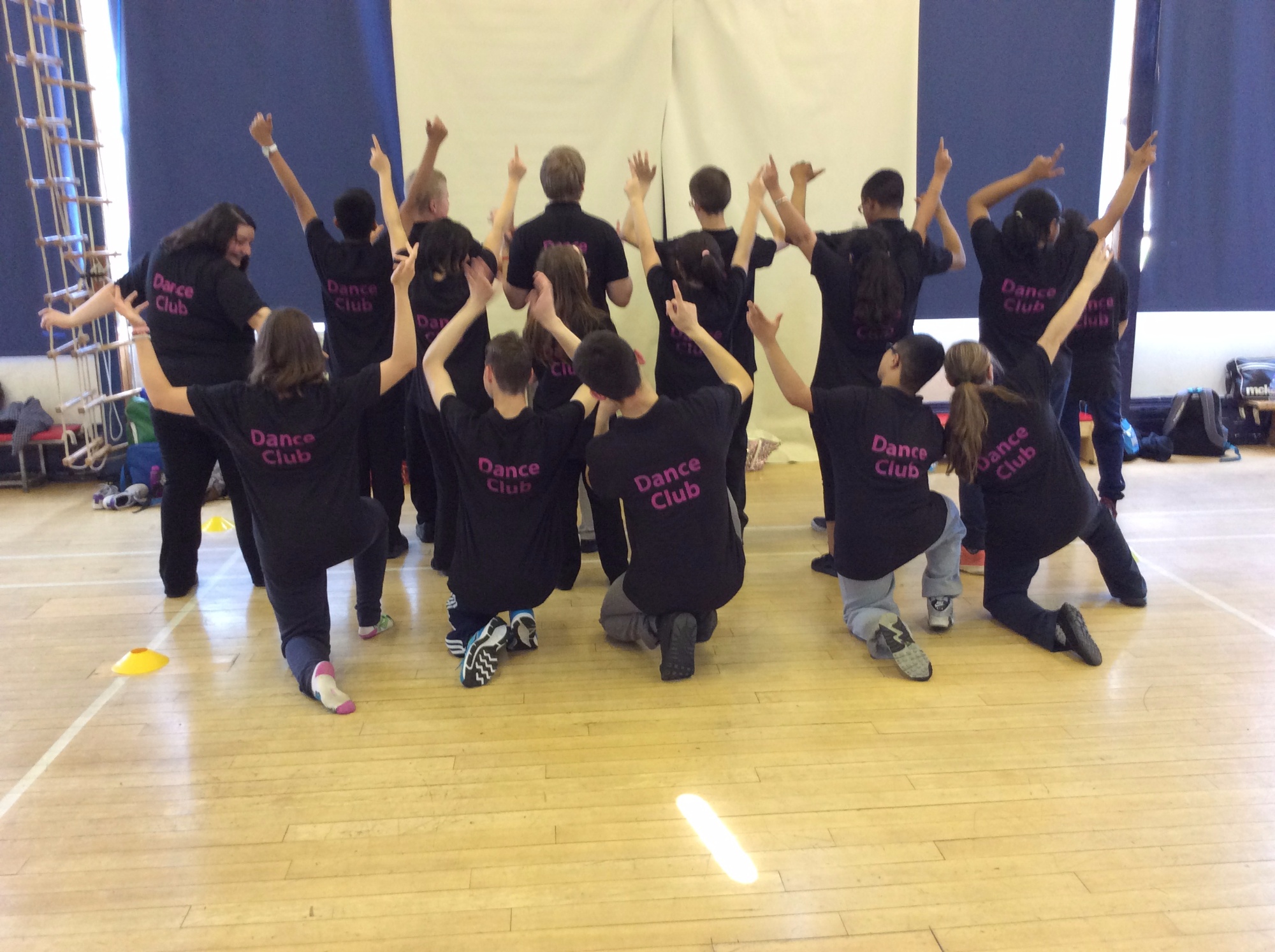 Scriptwriters and Production Club
The Summer Production is developed through two after school clubs throughout the year- Scriptwriters club and Production Club. Students with a particular interest for creative writing and story boards are put forward to take part in a term of readapting a children's story and creating their own twist. Students develop ideas from costumes to the set design and often these students develop roles within the show.
The Production club begins from term 2 up until show week and allows any students to take part and join. Production club has emerged a backstage crew for students to take part in making props and the set design if they do not wish to be on stage during the show.
Students have an opportunity to audition for roles and parts within the story and take part in whole cast numbers learning to sing, act and dance. The usually consists of pop songs the students choose to help narrate the story and students have the opportunity to create their own dance choreography to showcase. Meadow High School offers opportunities for other schools to come and attend the shows as well as organisations/stakeholders who support the school. There are many cross curricular links to help promote the show around the production such as a poster competition and reviews/feedback from the audience.
Every year the Production Staff hold a fundraiser to raise money for the shows set and costumes. This all started at the beginning of the Spring term 2016 with the 'Hatter's Tea party' was a great way to reveal the show's theme. Inviting parents and carers to an evening with the students. The hall is decorated using props designed by students within their Art lessons. Guests are served by the staff members in full fancy dress and are entertained by a live staff band. Student's art work is put on silent auction throughout the evening.
Every year we hope to create an original production and increase the student participation. Also we aim to develop student's strengths in dance by increase opportunities for the Dance Leaders to gain responsibility and independence.
Shining Stars
New in Autumn 2016, Shining Stars a combined Club between Dance and Music now runs over the Autumn Term, Students who pick this club can participate in the end of term Winter Concert and can choose to specialise in Choir, Dance or a combination of both.
Glee Club is another Choir club which involves singing, signing and performing, where pupils enter into a concert alongside other schools in the community this club runs during lunch times during the spring and Summer term.