Maths & Science Week 2018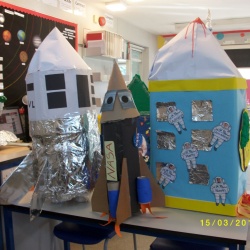 MATHS & SCIENCE WEEK ROUND-UP
As you may already know, this year the Maths and Science departments teamed up to provide students with a week of enrichment activities. The theme for this year was:
The week kicked off with a visit from a portable dome Planetarium. The Key Stage 3 pupils enjoyed 45 minute workshops in which students turned into space explorers, learning about the Sun, planets, the Moon and natural phenomena like the Northern Lights.
Three visits to the Natural History Museum in London were arranged for students in Years 10, 11 and those taking Science in the 6th form. On Tuesday, the students enjoyed a special show on Volcanoes and Earthquakes, whilst on the following days all the students got involved in Hands-On sessions using scientific equipment. They were exploring and handling artefacts and specialist equipment, such as zoom cameras and microscopes.
Another visit also took place to the Look Out Discovery Centre for pupils in our Thematic classes. The trip was a great success and a lovely display has been created in school, reflecting pupils' enthusiasm for the day. These pupils also had a challenge to design a holder for popcorn, culminating in a cinema-like experience viewing in the library.
Challenges and competitions were open during the week for all pupils to win fantastic prizes. This included;
Class LD's winning Rocket

Completing the Measures booklet (won by Miss Sojka's Maths class);

Best Design Rocket challenge (won by classes LD, Amu, 11CL, 8LB);

Best Flyer Rocket challenge (won by 10ZK)

On Friday's special assembly the poster competition winners were also revealed (congratulations to winner Billy Watkins, 2nd place- Ellen McCarthy, 3rd place- Marcus Morris and Runners-Up, Imtiyaz Hussain and Erin Keeble)! See their brilliant entries on Our School/Gallery/Maths & Science Week Post Competition Winners
The teachers worked hard to create special displays that went up along the 'Science corridor' with further challenges and with students' work on show.
We would like to thank everyone involved in the planning and 'behind the scenes' who helped make this event fun and informative. All in all, the week was particularly successful with excellent participation by our amazing students!
Mrs Terry (Science Co-ordinator)
Mrs Ghalib (Maths Faculty Leader)
There are lots of photos on the Learning/Maths/Maths Week 2018 page, the Learning/Science/Science Week page and the Our School /Gallery/Maths Week 2018