Thomas is in the News!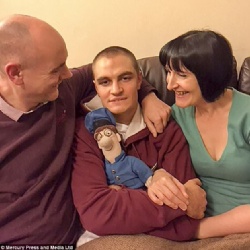 NEWS OF THOMAS, A PUPIL WHO LEFT MEADOW LAST SUMMER, IS APPEARING ALL OVER THE LOCAL NEWS, TWITTER, FACEBOOK - WE HAD TO ADD THIS STORY....... AND THE HAPPY ENDING .....
Human nature's heartwarming side': Parents of severely autistic teen, 19, reveal their joy after STRANGERS on Twitter help to find a rare Postman Pat video their son wants for Christmas
The parents of a severely autistic teenager have revealed how complete strangers have helped them track down a rare VHS Postman Pat episode beloved by their son in time for Christmas.
Thomas's parents took to social media after son Thomas, 19, asked for Post
man Pat's Prize Postbag in a hand-written note.
Dad decided to ask Twitter users if they could help source the discontinued video, posting a tweet explaining why he was searching yesterday.
Dad sent out a tweet asking if anyone could help find the episode on the outdated format because Thomas loves having the boxes despite watching the show on YouTube. Right: Thomas has been a fan of the chirpy Greendale character since childhood
Dad explains: 'Thomas is autistic with severe learning disability, and finds the written word easier than speaking to express himself.'
'It's only been the third Christmas that he has really been aware of being able to ask for presents.'
The couple said Thomas wrote the list over the weekend and it consists of entirely second-hand gifts, from a Monsters University jigsaw to more videos with Postman Pat and Fireman Sam.
Mum's plea on Facebook was shared several times, but Dad's tweet received a huge response on the more public platform of Twitter, with more than 7,500 people retweeting it.
I think the biggest thing that we have learned is the power of social media for good things, and the kin
A lady from Bournemouth, saw the tweet after Strictly Come Dancing performer Brendan Cole shared it, and contacted Thomas's Dad to tell him she had a copy she was about to give to charity.
'It really is a wonderful story which I'm so grateful to be part of,' she said.
'I have three boys who, when I told what had happened, were so pleased to hear that Thomas would be getting such a great surprise on Christmas morning.'
Mum and Dad have arranged to go to Bournmouth (which just happens to be one of Thomas's favourite places) to collect the VHS !
WE HOPE THOMAS LOVES HIS CHRISTMAS PRESENT !