Poem 'Inspired By The Madness of These Times'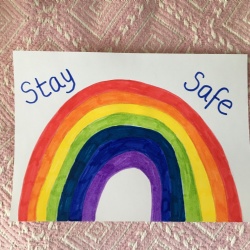 The poem below has been written by one of our Teaching Assistants, Miss Barella.


How the world is changing,
It's strange beyond belief,
So many people dying,
So many feeling grief.
Our country lives in fear right now,
People acting very queer,
They say this maybe long term,
Perhaps even a year.
Most people are compliant,
They are kind, unselfish too,
But there are others in this world,
Who are selfish through and through.
They strip the shelves in shops and stores,
They hoard food they do not need,
Only thinking of themselves,
Through selfishness and greed.
Rich or poor or homeless,
It doesn't pick and choose,
All of us share the same risk,
And some of us will lose.
Maybe not you yourself,
But someone that you love,
So we should stand together,
And pray to those above.
So if you're told to stay at home,
To protect our NHS,
You have to listen to their pleas,
You have to do what's best.
Because without them, we are doomed,
They can't save any lives,
They're working on the front line,
And without them more will die.
So spare a thought for all of them,
They bear a heavy task,
STAY AT HOME protect them all,
It's not too much to ask.
Stay safe