High Tea - Year 10 Food Technology Options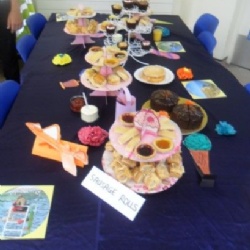 Food Technology Year 10 options class and I would like to say a HUGE THANK YOU to everyone who was able to attend their High Tea on Thursday 18th July.
The High Tea was organised and displayed by seven Year 10 pupils as part of their Food technology options. Their unit award was to plan, prepare and host a High tea. The pupils created their own invitations to give to their chosen staff members.
The pupils enthusiastically expressed how much they 'Loved it!'... 'It was so much fun!' and they were 'So glad so many people could make it!"
Miss Lepage
Food Technology Teacher
The pupils' hospitality and preparation was amazing - Ms Caddell