Jack Petchey Outstanding Achiever Award - Winner - November 2018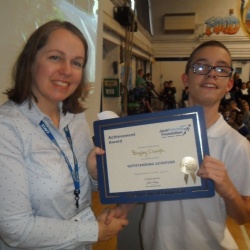 Bayley won the Jack Petchey award for November!
Bayley won because since returning to school he has taken control of their own personal care.
Keeping to strict timings and using new equipment to make himself more independent. Bayley always tries his best to overcome difficult situations and his determined attitude helps him do this.
Well Done Bayley!
Bayley chose to spend £250 on new bean bags for the library!