Remember Me Memorial In The Sensory Garden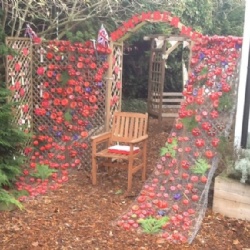 'Remember Me' Memorial In the Sensory Garden
All pupils and staff from Meadow High School were given the opportunity to recycle their old plastic bottles and paint them to remember those that lost their lives in the conflicts of past years. They have been located in the sensory garden which has an area of reflection. Collaboratively, staff and pupils worked so hard to erect the display for all members of the school to enjoy.
On Friday 16th November we had the opening of the 'Remember Me' memorial in the Sensory Garden which was organised by Mrs Daniels, Mr Hancox, Ms Lennon and Mrs Cryan.
Pupil feedback after seeing the Remember Me Poppy Display was "WOW! Awesome! Its so beautiful!" and "Makes it all so worth while".