Summer Production - July 2016 - Alice in the School of Wooooonder !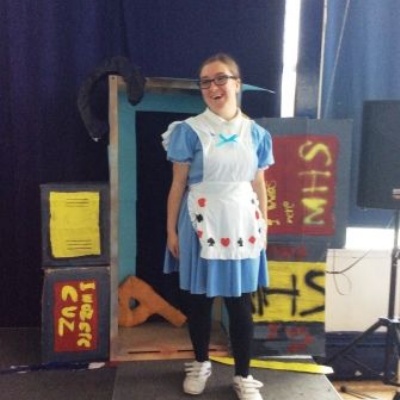 Way back in September 2015, pupils in Year 11 and Sixth form were invited to join Script Writers Club to help write a new show. Lots of thinking, ideas and words later, we came up with the idea of "Alice in the School of Wooooonder!. The story is based on the Lewis Caroll classic tale and is set in a school rather like Meadow..........
Rehearsals started in January 2016. We rehearsed, sang, danced and acted until we were perfect.
The Art Department worked with some students to produce scenery, artwork displays, posters and costumes.
In Summer 2016 we practised our makeup and hair, tried on costumes, rehearsed our lines again and again and again until........
We were ready for the shows!
On 4th and 5th July 2016 we performed Alice in the School of Woooonder to parents, pupils, governors, staff and friends !
Take a bow ...................
See our Our School/Gallery page for photos of Alice in the School of Wooooonder !